Lillias White talks turkey about upcoming Tonys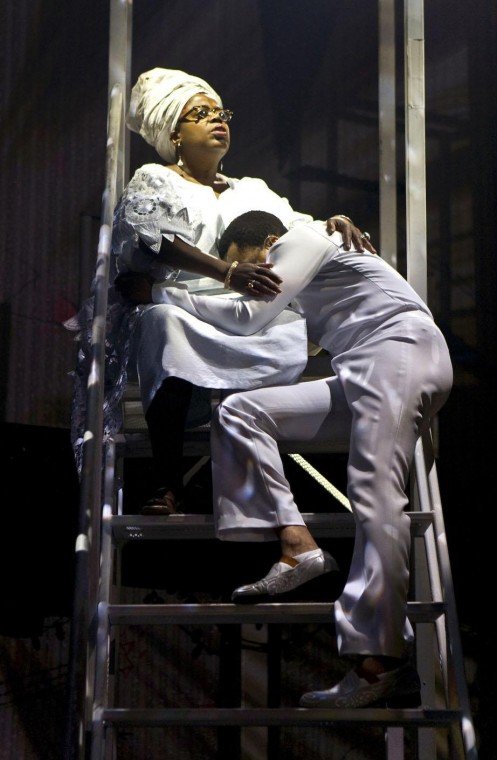 This coming Sunday marks the 64th annual Tony Awards. The Tonys recognize the best in what Broadway theater has to offer, and this year it is recognizing the amazing creation of a musical about a real person, "the Father of AfroBeat," the late Fela Anikulapo-Kuti.
"Fela!" (playing at the Eugene O'Neill Theatre on West 49th Street) vividly depicts the tragedies Fela experienced at the hands of the corrupt Nigerian government. It lets the audience see Fela's political consciousness evolve and get to know his mother, Funmilayo Ransome-Kuti (played by Tony Award-winning actress Lillias White), who was a political activist in Nigeria.
The musical is based on a book by Jim Lewis and Bill T. Jones, with a story conceived by Jones, Lewis and Stephen Hendel. The Tony Awards committee has nominated the show for a record 11 awards in the categories of Best Musical, Best Book of a Musical, Best Direction of a Musical--Bill T. Jones, Best Choreography of a Musical--Bill T. Jones, Best Performance by a Leading Actor--Sahr Ngaujah, Best Performance by a Featured Actress--Lillias White, Best Design, Best Costume Design, Best Lighting Design, Best Sound Design and Best Orchestration.
Following her performance Tuesday night, White was glad to talk to AmNews about the nominations, this phenomenal production and her hopes for the show's further recognition of winning Tony Awards this Sunday. A Q&A with the Tony Award-winning actress (who won for "The Life") follows.
AmNews: How do you feel about "Fela!" getting 11 Tony nominations?
LW: I was very certain that we were going to be recognized and lauded. I didn't imagine 11 nominations, but I did see us being in the running. I was surprised about my nomination because I don't have a lot of scenes in the show. But if it was enough to merit a nomination, I want to win!
AmNews: How does it feel to be part of such a powerful piece of theater that has such an amazing message?
LW: It feels very good. It is the role of a lifetime. It makes me hopeful about the direction of the theater, particularly musical theater. It makes me hopeful that more shows about real people will change the world--real people who changed the world because they stood up. I hope that this show is the look and the shape of things to come, that it will open the door for musical theater to be entertaining, insightful and have a message and be educational.
AmNews: How did you feel when you heard that you were nominated in the best performance by a featured actress category?
LW: I was very happy to know that people are affected in that way--that what I'm putting out there is getting across. I'm glad that this woman is being recognized for the efforts she put out to make her community better. We don't have a lot of sheroes in entertainment--people who did things to make people's lives better. I'm so glad and proud to portray Funmilayo Ransome-Kuti.