Lillias White talks turkey about upcoming Tonys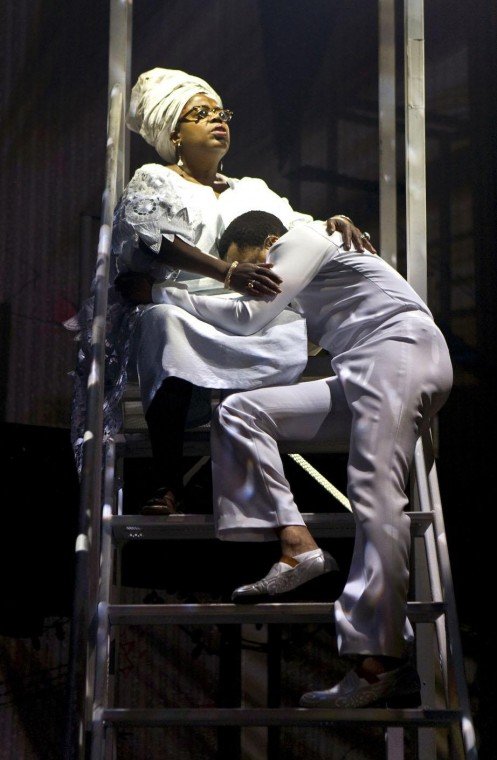 LW: Bill T. Jones is extremely intelligent, well educated, well read and he's clear about what he wants, the vision he sees. He's smart about putting the right people together, and all those components have created what you see in "Fela!" He has taught me a lesson about who I am as an artist and stillness--how it can attract as much attention as someone who is moving around.
I've done a lot of Broadway shows and cabaret. In most of the shows, I have a tendency to move around. In this role, he doesn't want me to move around a whole lot. He wanted to see the regality of her. He wanted her regal and had specific movements for me to do. He wanted her power and authority to come from whatever was inside of me. That's possibly because there's so much movement in the show, there had to be a place for Funmilayo to be still. She moved people with her energy, force of her being, her passion and intensity. I work for that with each performance to let people see that glimpse, that part of her.
AmNews: Why do audiences need to see this show and know what all the nominations are about?
LW: I think that the play speaks for itself and there's something to be gleaned from the experience of coming to see a show like this. People need to know who Fela was--he was a Black man who was a hero. He wanted to change things so that people lived better. He did his part to help change Nigeria. He changed the world with his music. I'm grateful to him and to Funmilayo. I'm hoping that intelligence will rule when it comes to voting on the best musical. This is an opportunity for people to be educated, entertained and to be shaken out of the complacency that so many things we see have. Some things are mindless, and this is certainly not mindless. I'd like to see that recognized.
Tony fans will be able to do more than watch the show on television on CBS, they will also have the option of gathering in Times Square to watch pre-show interviews on the red carpet and awards coverage from 6 p.m.-11 p.m. live on the Clear Channel Spectacolor HD Screen in Times Square. The simulcast will happen for the second year in Duffy Square and there will be audio and seating starting at 5:30 p.m. The space can accommodate 1,000 people.
The Tony Awards are presented by the Broadway League and the American Theatre Wing.