MacDella Cooper--civil war survivor makes the way for others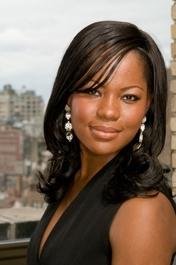 MacDella Cooper told the Amsterdam News that she has learned first-hand of the positive effects on a child of being removed from an impoverished setting with limited resources to one of a life of opportunity made possibility by an education.
So Cooper, 32, has made it her life's mission to remove as many Liberian children who live in orphanages with horrible conditions as she can in her effort to afford the children a new life of hope through the school, The MacDella Cooper Academy (MCF) that she is creating in Liberia, her home country.
"I think education is the only way this country can recover and any other third-world country. If we educate the children and change their mindset from the previous preconceived notions we had," she said in a phone conversation from Liberia, where she is working on the finishing touches of her academy, which will open its doors in August 2010 to children 3 to 10 years of age.
After years of being in high fashion and working with Ralph Lauren after having lived in a housing project in Newark, New Jersey, and then graduating from college in New Jersey with a scholarship, Cooper says she had a deep calling that began to take hold of her after people continuously sent her newspaper clippings about what was going on in her country.
"It was almost like a sign saying you need to do something, you need to do something, you need to do something," Cooper said, who has been referred to as Liberia's angel.
But although Cooper has had an exotic life in New York City fashion world, there is an ugly side to her glamour's career that brought her to the states.
Cooper survived a civil war in her country, where she not only lost her step-father, who worked for the United Nations, to rebel groups, but also had to live at a refugee camp for two years while her mother tried to find a way for her children to come to the U.S. When Cooper came to the U.S., she was a 16-year-old who had lived in a world that most people only see on television or movies like "Hotel Rwanda."
So when Liberia opened up after the civil war, she said she came to the country to see where she could help. That's when she met children that Cooper said made her heart totally broken.
"It was almost like I was this other person looking at me. I knew I had to do something," she said.
Her organization, The MacDella Cooper Foundation's vision was always to help children and whoever else needs it as well. However, when she got to Liberia, she said there were hundreds of children roaming the streets with nowhere to live, living in slums or ghettos.
"I just thought, 'Who would put a child in this situation?' It was horrible," Cooper said.
"That pushed me in every way I can to help not just children who are hungry and homeless and fatherless and motherless, but to make sure that they are educated so this country does not go through the same thing we went through in 1990 and 14 years of civil war."
The academic curriculum at the academy will consist of the educational guidelines that exist in Liberia and combine a heavily focused international curriculum, along with learning who they are and where they are from want to exult the children to an international mindset instead of just thinking locally, Cooper said.
"I've been around high fashion so much in the New York City's social scene and the luxury life of the New York social butterfly I had completely forgotten that there was a world that existed that was this vicious, and then it brought back all this memories of when I was in a war. I was one of those kids," she said.
For more information on how you can help the MacDella Cooper Foundation or the MCF Academy, see www.macdellacooper.org.