MAKING THE GRADE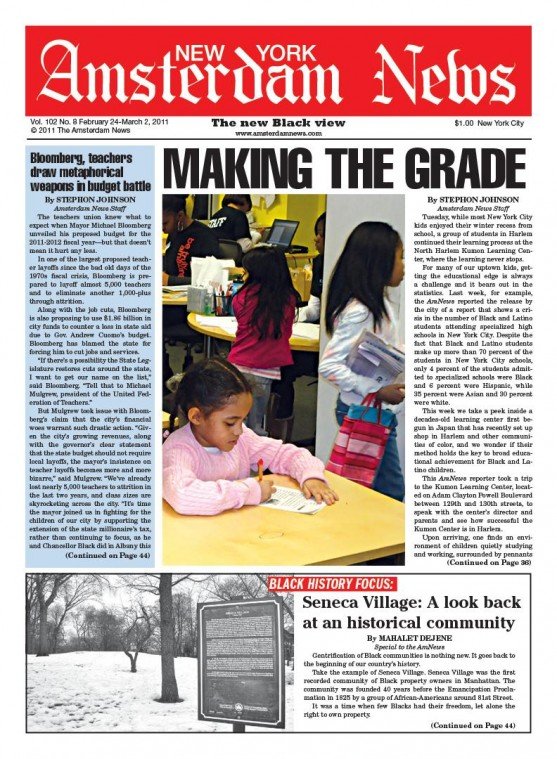 When the AmNews asked several parents how they first found out about Kumon, their answers were always the same: Word of mouth, usually from a friend.
"The way I found out about Kumon; my daughter was 3 years old and she was going to the St. Aloysius School [in Harlem] when she and another little girl became friends," said Shanise Thomas. "So when she had a playdate with her friend, the parent showed me the work of Kumon. The parent started telling me about Kumon and how it was really good for her child--how her child was so advanced from coming here. So she showed me the work and I said let me try them out. I came to the orientation and I think, like, the following week I brought my daughter so they could give her a test to start the program." Her 6-year-old daughter, Yeali Ulaba-Samura, a student at Kumon for two years, is currently at a fourth-grade reading level.
Delys St. Hill-Lopez's 6-year-old daughter, Tibisai, has also been in Kumon for two years and currently reads at a second-grade level. "I had a very good friend whose son had been in Kumon from age 4--she found out about it from another friend of hers whose son did so well in Kumon in math that it encouraged her to put her son in," she said. "And it encouraged me to put my daughter in." St. Hill-Lopez enrolled her daughter at age 3 despite having known about it for a year. She wanted to be proactive in her approach and not wait until her daughter had any problems in school to make a move.
"The beautiful thing is that you get them at 3 years old and you start training them to sit down at a table and focus and concentrate," she said. "And it's a beautiful thing."
St. Hill-Lopez's desire for her child to succeed academically not only stems from the love of a mother, but also from an awareness of the global competition her daughter will face when she's older. "That's why I think it's important to be proactive," she said. "I'm not confident in our educational system in this country. I look at what this country is accomplishing and other countries that have a GNP maybe one-tenth of what this country produces, but yet their students accomplish so much more. A lot of people think they can just send a kid to school and that's it: 'Oh, my kid goes to school. They're gonna learn.' And that's not true."
St. Hill-Lopez told the AmNews several stories about other friends' children to demonstrate, in her eyes, why even the prestige of a school doesn't matter when it comes to a child's education. "At a school like Trinity or Dalton--a number of those children end up having to leave those schools. I had a friend whose son started at Trinity in kindergarten. By the time he got to seventh grade, they told her that her son is not up to par in reading and math. They have failed her son. Her son had to leave and go to another school. Why is that from kindergarten to seventh grade they did not make sure or give him extra tutoring?
"This country doesn't value education. It's about making money and it's about taking advantage of people and getting them to make money for you. Even at the best of schools," said St. Hill-Lopez who proceeded to mention well-known private institutions like Fieldston and Horace Mann to further emphasize her point. "And they won't hesitate to show your child the door...especially an African-American child."
With all the positive stories about Kumon, you would think that it's hard to be admitted to such a program. When asked about the criteria for getting into one of the learning centers, Ebbits said, "As long as they don't wear a diaper and can sit in a chair for a few minutes. That's it," she continued. "That's the criteria."
Don't forget time and money, which we'll discuss in part two of "A day at Kumon" in next week's AmNews.