Media continues to misrepresent Wyclef Jean's mission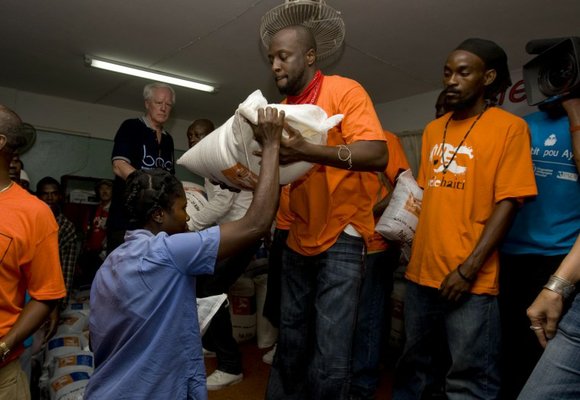 The mass media only wants to ask Wyclef Jean questions concerning alleged misappropriation of funds to his Yele Haiti Foundation simply because some Internet site, the SmokingGun.com, said there was a problem.
The media distorted the image of the Grammy Award-winning songwriter's tearful moment during his January 18 press conference at the Sheraton New York hotel at 53rd and Seventh Avenue.
Wyclef had given the reporters his understanding of the accounting error that had raised some eyebrows and moved on to speak in Creole to "his people" watching the press conference back in Haiti. Before he began to speak, a visible stream of tears began to flow down his cheeks.
But the way the photo that was used would have the public believe that he was crying over the allegations concerning the foundation. There's no truth in that mis-characterization - the AmNews was there.
The AmNews began its coverage of Wyclef's work in Haiti on Sunday evening (January 17) when he and his wife returned from Haiti. He had headed for the foundation offices in lower Manhattan and upon his arrival, was greeted by Viola Plummer and others from the Dec 12th Movement, Akbar Muhammad, International representative of the Nation of Islam, Abdul Hafeez Muhammad from Mosque #7 and Lawrence Muhammad from Mosque #25, radio show host Mtume, radio icon Bob Law and a host of others.
When he entered the room, he immediately came to each person and shook their hands, thanking them for coming. He then made a brief statement: "We-- my wife, Claudinette, and my cousin Jerry Duplessis--went to Haiti almost immediately after the earthquake by plane to the Dominican Republic, where we chartered a plane into Haiti. We were greeted by President [Rene] Preval, the first lady and the prime minister. The first lady described what had happened as an apocalypse."
Wyclef said they saw a lot of "courage" in the people.
During his press conference, his described the upcoming mission of Yele Haiti. "Right now, we are focusing on getting emergency supplies to Haiti and getting those supplies distributed safely to those in need, along with a communications plan with our corporate partner, Trilogy International," Wyclef explained to reporters.
He said Yele Haiti had reached out to "partner organizations" such as the UN Office of the Special Envoy, the Clinton Global Initiative, the World Food Programme, the UN Mission in Haiti, the Pan American Development Foundation and Airline Ambassadors.
"New partners have been enlisted that include AmeriCares and the Red Cross," Wyclef added.
And then the popular rapper dropped a "bombshell. "I have been asked by the president of Haiti to put forward the following plan for consideration.
"I am calling for a Marshall Plan for Haiti that will create tent cities that will need to serve as communities for the next few years as we rebuild," stated Wyclef. "We are proposing that instead of creating tent cities in the vicinity of Port-au-Prince, that instead, the emphasis should be on creating tent cities disbursed around the country in order to facilitate people evacuating from the capital to the communities they came from or where they still have family.
"This will have two main advantages," Wyclef continued. "First, it will avoid creating permanent ghettos in Port-au-Prince because there is no commerce left in the city, and it will be a long time before any is re-established. Second, those being evacuated will have a better chance of being absorbed into the community life and commerce of existing cities and towns.
"An evacuation of this kind and on this scale is a huge undertaking that can only be accomplished by the collective efforts of the government of Haiti and all those coming to the aid of Haiti," Wyclef said.
He ended the press conference with the announcement that he planned to return to Haiti on Saturday, January 23.
Reports are coming in at AmNews press time that at least 200,000 Haitians have left Port-au-Prince for the countryside.