Men's shirts: Solid investments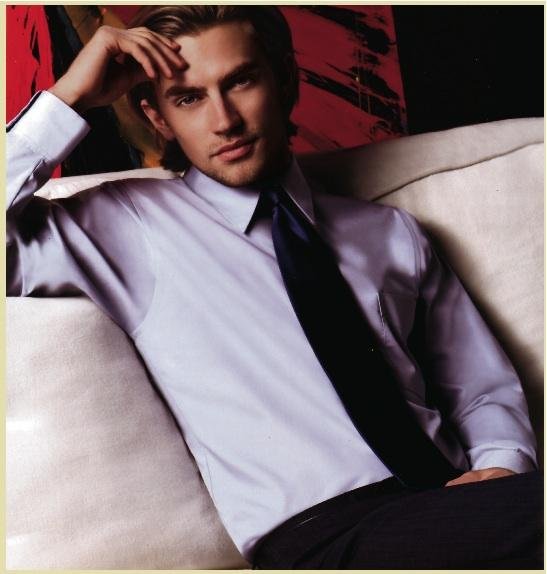 When the economy spirals down, the dress code goes up. There's a strong and renewed interest in looking good to assure feeling good.
For men, shirts in solid colors are important. At Van Heusen, shirts are key to the equation of looking smart, staying in a positive mood and spending less to do it. This season, shirt design trends move back to the basics. Look for less novelty, but still with discreet fashion accents. There's new and focused surface interest on textures, cords and twills. There's also the shine of sateen that connotes sartorial success.
Colors are monochromatic, subtle, soft and lively. Find pool blues, lilacs, lime greens, corals and grays. White is always smart looking, and basic black, berry and plum are, too. There are patterns to spruce up the spirits, with stripes dominating on white,
gray and neutral backgrounds.
Shapes of things to come include polished, masculine silhouettes with modern, classic refinement. The approach is dressy, up-to-date and suave. Van Heusen also has a more tailored, fitted design that is sleeker, trimmer and slimmer. Such fashion accoutrements as suspenders, vests and cuff links are an easy way to change the look of your shirt.
There is a fresh focus on collars. They are on point, moderate and full spread. For pinpoint and oxford fabrics, button downs are favored. Van Heusen also features smaller collar proportions that are aimed at the younger-attitude, trendy man. For another budget
booster, Van Heusen offers popular poplin broadcloth and oxford shirts that are wrinkle-free, machine washable and dryer friendly.
Geoffrey Beene's stimulus package focuses on the new dress-up psychology, too. Look your best, be confident and feel important.
At Geoffrey Beene, silhouettes are slim, trim and snappy. Shirts are enhanced by narrow neckwear. This trend is across-the-board, from the younger to mature male, on the job or on the lookout. This leaner look extends to shorter color points and cutaways, as well as to the more traditional spread and button-down models. White collars and French cuffs are out there, too. Beene's no-iron, 100 percent cotton is one of the main fabrics of choice.
On solid ground, their classic white shirt is a top fashion power broker. It's simple, clear and true to form. Eco blues, greens, maize, pinks, carbon and granite grays are also important colors. Earthy corals, bluer purples and lavenders have become virtual wardrobe staples. Their solid palette is on the softer side. It's toned down and defused with a chalky, foggy cast. Simple stripes are straightforward and classic. Elegant and smart, they are the tow-the-line preferred patterns.