MoMA's spectacular 'Tim Burton' retrospective opens Nov. 22
Misani | 4/12/2011, 4:37 p.m.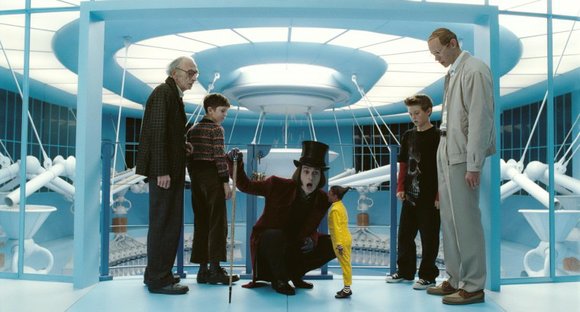 The spectacular, highly anticipated Museum of Modern Art "Tim Burton" retrospective will be on view from November 22 through April 26, 2010 at Theater 1 Gallery, Theater 2 Gallery, the Special Exhibitions Gallery third floor and the museum lobby at 11 West 53rd Street in New York City.
The expansive exhibition and illustrious film series explores the imaginative insight of Tim Burton's magical artistry spanning his distinguished 27-year career. It also looks at Burton as a director and concept artist for live-action and animated films, and as an artist, illustrator, photographer and fiction writer. In addition, the retrospective reflects how Burton, who was inspired by various pop culture expressions, recreated the "Hollywood genre filmmaking as an expression of personal vision." This resulted in the film icon "garnering an international audience of fans and influencing a generation of young artists working in film, video and graphics."
"There is no other living filmmaker possessing Tim Burton's level of accomplishment and reputation, whose full body of work has been so well hidden from public view," states Ron Magliozzi, the assistant curator who organized the exhibition, along with Jenny He, curatorial assistant of the department of film, and Rajendra Roy, the Celeste Bartos chief curator of film for the Museum of Modern Art. "Seeing so much that was previously inaccessible in a museum context should serve to fuel renewed appreciation and fresh appraisal of this much-admired artist," Magliozzi concludes.
Over 700 examples of rarely or first-time exhibited drawings, paintings, storyboards, digital and moving-image formats, props, puppets, maquettes, costumes, cinematic ephemera, sketchbooks and cartoons are included in this extensive compilation, which illuminates the artistic vision behind Burton's avant-garde cinematic works such as "The Nightmare Before Christmas," "Beetlejuice," "Batman," "Edward Scissorhands," "Charlie and the Chocolate Factory" and "Sweeney Todd."
Burton's prodigious career began with his earliest childhood drawings. He then moved into his mature artistry through his established work in film. The unparalleled exhibition presents artwork generated during the conception and production of his films and highlights a number of unrealized projects and never-before-seen pieces, as well as student art (cartoons and drawings during the time he attended the California Institute of the Arts), his earliest non-professional films and examples of his first professional work at Walt Disney Studios.
Acclaimed worldwide for the 1988 comedy-horror "Beetlejuice," it just one of 14 cinematic masterpieces, which include "Pee-Wee's Big Adventure (1985), "Batman" (1989), "Edward Scissorhands" (1990), "Batman Returns" (1992), "The Nightmare Before Christmas" (as creator and producer) (1993), "Ed Wood" (1994), "Mars Attacks!" (1996), "Sleepy Hollow" (1999), "Big Fish" (2003), Corpse Bride" (2005), "Charlie and the Chocolate Factory" (2005), and "Sweeney Todd" (2007). In addition to these feature films are two of his early short films, "Vincent" (1982) and "Frankenweenie (1984).
Also included are Burton's writing and web project for the flash animation Internet series "The Melancholy Death of Oyster Boy & Other Stories" (1997) and "Stainboy" (2000), all of which will be screened during the five-month-long exhibition in the museum's Roy and Niuta Titus Theaters.