Monique: Myles Ahead and giving back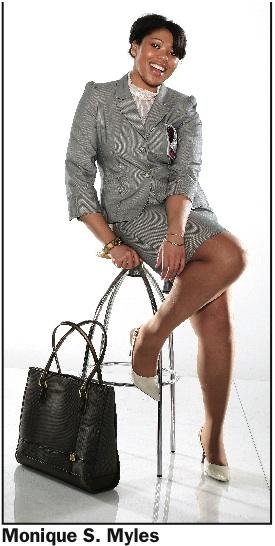 Monique S. Myles attributes success in her life to one simple rule: never expect failure. And with that rule, she's becoming one of the city's premier marketing moguls while using her spare time to give back to the community.
The 27-year-old currently works as the marketing manager at Black Enterprise magazine and also has her own agency, Myles Ahead Consulting. At Black Enterprise, she's responsible for branding and promoting the company in all aspects through the company's print, online and television products and events.
But looking at Myles' success in life, her upbringing is something few can accurately pinpoint. While this young, fresh-faced, career driven woman has it all, life wasn't always easy. Myles grew up on Chicago's West Side and recalls her neighborhood as an "urban jungle." Growing up in a low-income neighborhood and dealing with a drug-addicted father, she knew she had a choice.
"My neighborhood is a place where you can take two paths: you can either stay in the 'hood or you could be the neighborhood superstar," she said.
While in school, her teachers saw her talents and went the extra mile to ensure that they were able to grow. Myles received many honors, including president of her school's African-American Society, valedictorian of her junior high school and making prom queen.
As college was on the horizon, Myles realized that her mother didn't make enough money to fund her education, so Myles applied for numerous scholarships. Her determination led her to receive over 20 scholarships to attend the University of Illinois at Urbana-Champaign.
She said, "I knew I lived in a household where I couldn't afford college, so I just applied for scholarships. I just applied for them and money just came in the mail. One hundred dollar checks here,$500 checks there. I had a very low amount of student loans and I got free room and board because I was a resident advisor."
While in college, Myles joined Delta Sigma Theta Sorority Inc., where she served as president. She was also president of the Central Black Student Union. While in college, she met and worked on the campaign for President Barack Obama when he was a senator in Illinois. She also studied abroad in South Africa and Paris.
In 2004, Myles earned her degree in marketing with a minor in African-American studies. Two weeks after graduation, she decided to live her dream of taking a bite of the Big Apple and moved to New York City. Myles used the money she had left over from scholarships and moved to Manhattan's Inwood neighborhood. She moved to New York with no job and a subleased apartment knowing that she was going to make it big.
"I didn't know anyone and I had never been to New York before," she said. "I moved here with $2,000 and my rent was $1,000 a month. But I wasn't scared. If you set yourself up for success, it's inevitable." Making her way through the marketing industry, Myles worked at Keen Management Group and CosmoGirl magazine before joining Black Enterprise in 2007.
Feeling a need to give need to give back to the community, she serves as vice president of the New York Urban League Young Professionals, sergeant of arms for the Delta Sigma Theta Northern Manhattan Alumnae Chapter and serves as a board member for the Black Equity Alliance.
She has been a member of the NAACP since she was a teenager and also mentors young girls. Myles said that she wants to be model for her 14-year-old sister and other teenagers.
As for the future, Myles said she wants to continue to excel and become a chief marketing officer.
"I have an inability to be inactive," she said. "I can't be unproductive, and I'm where I am because someone sowed a seed in me."