"Mr. Chairman," Percy Ellis Sutton, passes at 89
Herb Boyd | 4/12/2011, 5:22 p.m.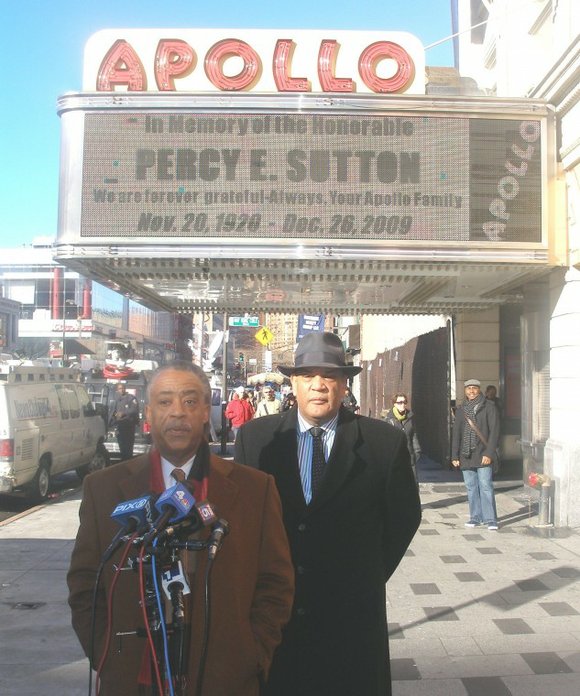 Sutton's ability and vision as a businessman was matched by his political prowess. Despite early setbacks in the quest for elected office he was undaunted and eventually won a seat in the assembly and for eleven years, from 1966 to 1977, he was Borough President of Manhattan.
But for State Senator Bill Perkins, Sutton was a "miracle worker," something former Mayor David Dinkins has also labeled his friend and associate. "I remember when 125th Street was infested with rats and just about every business was boarded up," Perkins said. "Percy bought the Apollo, renewed it and returned it to its original glory, and things began to change on the street and elsewhere in Harlem."
"Percy Sutton, a 'Man for all seasons,' has served as a role model for me and for family responsibility," said Lloyd Williams, CEO and president of the Greater Harlem Chamber of Commerce, during the tribute to Sutton last year. "He is a father, a grandfather, a great-grandfather, stepfather, a godfather, big brother, surrogate, uncle, counselor, educator, mentor, advisor, and friend to his entire family. His love for Leatrice is as deep and fresh today as it was 50 years ago."
"I want to be remembered as a man who loved his brothers and sisters, a man who was not afraid," Sutton said on many occasions.