New Q-Tip is old-school through and through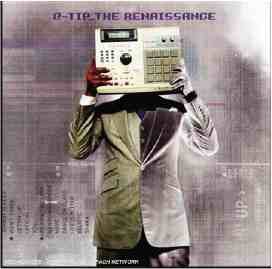 Guess who's back? Queens rapper Q-Tip rose to fame in the early 1990s as leader of A Tribe Called Quest, considered one of the great acts of the genre for their fusion of jazz and hip-hop, a unique mash-up that appealed to fans of hardcore rap and college students alike (as evidenced by the group's appearance on the 1994 Lollapalooza tour).
Now, almost 10 years since his first and only official solo record (1999's "Amplified"), Q-Tip has returned to the rap world with "The Renaissance," and he couldn't have chosen a more appropriate title. Tip's voice alone is a throwback to another time; his clipped couplets sound like nothing else in hip-hop today. And the production, heavy on the classic R&B and soul-jazz vibes and rhythmic record-scratching, is undeniably smooth. It's old-school through and through. "Renaissance" had more than its share of hold-ups--Tip's labels shelved two consecutive, completed albums ("Kamaal the Abstract" in 2001 and "Open" in 2005) due to marketing concerns--and one can almost understand why. "Amplified" found the artist out of his element. Trading in the club bangers of the day, he reportedly pulled a 180 with "Kamaal," going straight '70s new-jazz, which surely freaked label execs--it would be hard to imagine that album existing in the same commercial universe as "In Da Club." So "Renaissance" is less an artist returning to form, than a form returning to vogue. With the gangsta rap cycle finally having run its course (or so we should hope), Tip sounds right at home, rapping over back-to-basics R&B joints like "Gettin' Up" (one of two tracks here produced by the late J-Dilla) and "I Believe" (whose key- board riff is practically a ringer for Tribe's "Scenario" lick).
A lot of ground is covered here. Tip sings a bit on "Official" and goes a cappella on "Dance on Glass." "Won't Trade" samples Chicago soul singer Ruby Andrews, while "Manwomanboogie" grabs its fractured, funky track from krautrock pioneers Can. He calls out the system that's kept him silent on "Move" ("So what's the industry/if the listeners will always stand beside me?"),but more than anything, the artist proves to be the foremost purveyor of relationship rap: "Life is Better" and "We Fight/Love"(which features a guest spot from another familiar early '90s voice, Tony! Toni! Tone! singer Raphael Saadiq) are just a few of the tracks here that tackle matters of the heart. This is change you can believe in :Q-Tip is back at the top of his game on "The Renaissance."