On February 4, 40 giving artists go big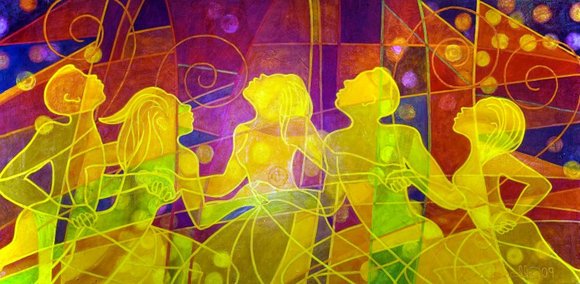 Black history will be made on Thursday, February 4 with the opening of "Artists Speaking for the Spirits," an exhibition of 40 mural-sized paintings by artists of African ancestry. In fact, the project is thought to be the largest group of paintings of this size ever created by a group of African, African-American, Caribbean and Latin American artists inspired by the Harlem Renaissance and other cultural movements.
Art lovers will converge on Arthur Bennett Hall in downtown Brooklyn from 6 p.m. to 9 p.m. to witness the debut of not just an art show, but of ARTCURIAN, a groundbreaking movement in which artists and social agencies collaborate to deliver services to those in need. The participating artists are inspired (or in-spirited) agencies for the creative and communal. They share a traditional African heritage in which the ancestors remain an integral part of society, revered for their wisdom and guidance. They live on through honor and remembrance, through the people speaking to and about them.
Otto Neals, James Denmark, Betty Blayton, Emmett Wigglesworth, Ademola Olugebefola, Robert Daniels, Che Baraka, Ramona Candy, Jide Ojo, Herbert Bennett, Jean Dominique Volcy, Karl McIntosh, Dindga McCannon, Stanwyck Cromwell and Doba Afolabi and are among the revered and emerging artists benefiting their communities. Their work is in the collections of the Studio Museum in Harlem, the National Museum of Ghana, the Metropolitan Museum of Art, Spellman College, Sidney Poitier and others.
ARTCURIAN organizers enrolled the artists in an initiative to introduce the healing power of art into the various therapeutic settings at the Addiction Research and Treatment Corporation and its affiliate the Urban Resource Institute (ARTC-URI). The agencies supplied canvas, materials and studio space to artists desiring it, and the artists are donating a significant percentage of the proceeds of sales to enhance the institution's services. Artists are also volunteering time to conduct workshops for ARTC-URI patients and consumers, who find joy, potential and self-regard through creating art.
The artworks on display range from glorious, jewel-toned pieces to ethereal pastels. Traditional, contemporary and Afro-futuristic themes are represented, as well as the political, spiritual and satirical. The paintings will hang at ARTC-URI headquarters to be enjoyed by those seeking care and are also available for acquisition by collectors and corporations.
"Artists Speaking for the Spirits" is the debut project of ARTCURIAN, a groundbreaking initiative of ARTC-URI, two of New York City's largest not-for-profit human service providers, with 14 facilities in Brooklyn, Queens and Manhattan. ARTC delivers medical and support services to thousands battling addiction and its related diseases, including HIV/AIDS and mental illness. URI operates a citywide transportation network for the severely disabled, job training, placement services and group homes for the developmentally disabled, and the city's second-largest emergency residential program for families endangered by domestic violence.
Beny J. Primm, M.D., ARTC executive director and president of URI, is a longtime collector who made possible this artful collaboration. Among the artists in his personal collection are Romare Bearden, Jacob Lawrence, Lois Mailou Jones, Henry O. Tanner, Twins Seven-Seven, Chief Oloruntoba, Bob Blackburn, Emmett Wigglesworth, Betty Blayton, Norman Lewis, Al Loving, Catti James and Carol Bayard. He's thrilled about "Artists Speaking for the Spirits" and the response to the ARTCURIAN initiative.