OUTRAGE AND TEARS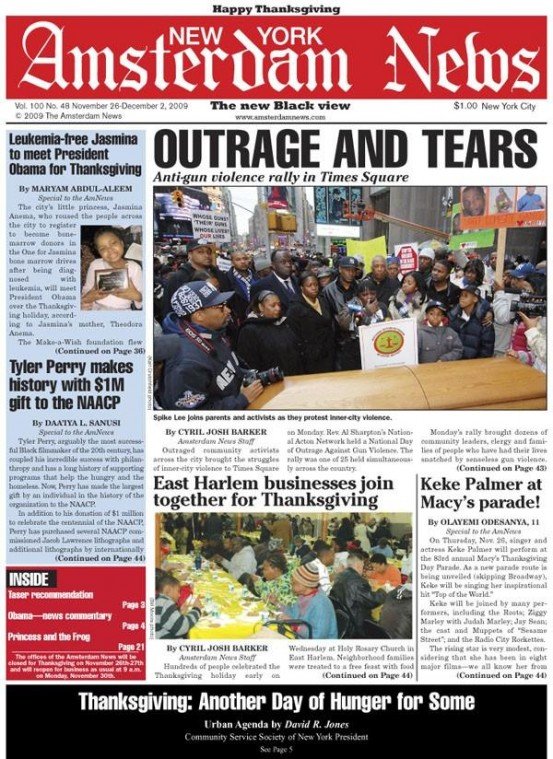 Outraged community activists across the city brought the struggles of inner-city violence to Times Square on Monday. Rev. Al Sharpton's National Acton Network held a National Day of Outrage Against Gun Violence. The rally was one of 25 held simultaneously across the country.
Monday's rally brought dozens of community leaders, clergy and families of people who have had their lives snatched from senseless gun violence. Sharpton was in Atlanta leading a similar march at NAN's southeast regional headquarters.
Marches were held bearing the same theme in places that included Los Angeles, Philadelphia, Cleveland and even a small town in Alabama.
While the flashing lights, glitz and glamour of Times Square usually attracts tourists from around the world, those visiting New York saw a face of city not portrayed in posh reality TV shows and prime-time dramas.
Even though Sharpton was not present at Monday's rally, those in his place, like NAN executive Director Tamika Mallory and his daughter Dominique, kept with his usual message of "No justice, no peace" but added, "Stop the violence."
"This isn't Iraq; this is New Raq," said Mallory. "We are here because we are outraged at the senseless, vicious killings in our community. We can't stand against the police when we are shooting each other. I am committed to this fight."
Monday's rally brought out a laundry list of outspoken activists from around the city, including Erica Ford, A.T. Mitchell, Jackie Rowe-Adams, Hazel Dukes, Spike Lee and Brooklyn City Council Members Leticia James and Charles Barron.
"Black and Latino youth might be pulling the trigger, but unemployment is providing the ammunition," said Barron. "The individual is responsible, but so is society. But no matter how broke you are, there is no rationale for you to shoot your own brother and sister. That's self-hatred."
Family members of gun violence victims spoke about the loss of their loved ones, many of whom were mothers of young Black men. Family members of Kevin Miller, Lacy Jenkins, Chris Owens and others shared the emotional affects of losing loved ones.
Eleven-year-old gun violence survivor Devonte Kelly gave his personal take on the chaos in his community, noting that Martin Luther King, Jr. and Malcolm X didn't fight for Blacks to be killing each other.
Midway though the rally, an empty, brown wooden casket was brought to the front of the podium to demonstrate the reality that gun violence leaves behind. Ford didn't hold back her outrage when the casket was placed in front of the crowd.
"This is what it's about," she said angrily pointing to the casket. "It's about these young people! We are outraged! Too many of our children are being taken away! No more! Our children's lives are too important!
The rally was followed by a march around Times Square as protesters wheeled the casket through the streets of Midtown.
The Day of Outrage comes on the heels of several incidents in which innocent people have become victims of gun violence. The most recent occurred in Harlem, where 66-year-old Virginia Valree was shot in the leg in Harlem on 135th Street while she was taking food to a sick friend.