OUTRAGE AND TEARS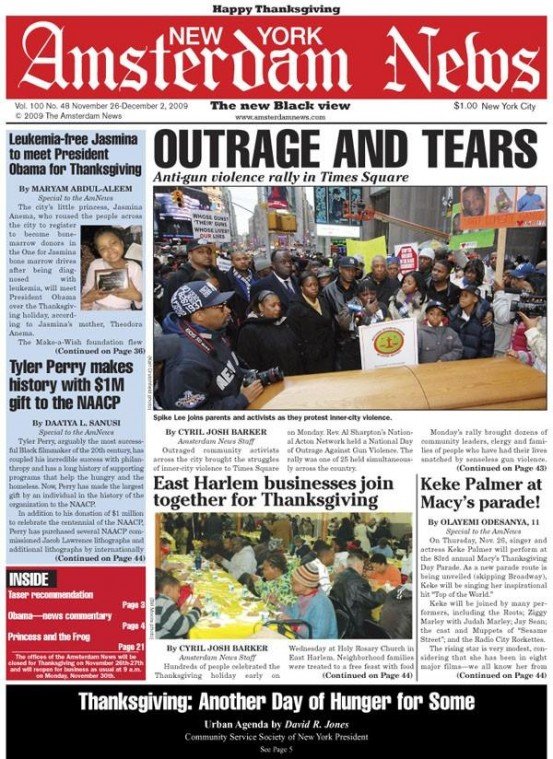 Stray bullets shot two women, Ashley Hardwick, 22, and Jasmin Jones, 19, while they were coming out of a party on Lenox Avenue between 131st and 132nd streets this past Saturday. Both women survived. Outrage is still simmering over the shooting of Vada Vasquez in the Bronx. The 15-year-old was shot in the head last week by a stray bullet that put her in a coma.
Pastor Vernon Williams, who does his own nightly walks to prevent gang violence in Harlem, said that while the issue of gun violence was brought up for one day in Times Square, it should be a daily effort.
"I love the fact that people are now taking up the issue and want to have rallies, but we have to be doing things on a daily basis," he said. "Calling for a day of outrage isn't enough. We need to have resources and other opportunities for young people on a daily basis."
The city has already taken charge regarding the problem, holding several meetings on the issue. On Friday, Mayor Michael Bloomberg called several community and religious leaders to Gracie Mansion to discuss the problem. Sharpton had a private meeting with Bloomberg during the gathering.
The fight against gun violence became a little easier on Monday when it was announced the NYPD recovered dozens of guns in a Florida-to-New York gun trafficking ring. Two men have been charged with a 105-count indictment after a three-month investigation. In total, 56 guns were taken off the street.
"The NYPD and Brooklyn district attorney's office have taken guns off our streets and made our city safer," said Bloomberg. "These investigations are so important because even though we've cut crime to historic lows, children like Vada Vasquez are still getting shot on our streets."
But while Monday's recovery was glimmer of hope on the crackdown on gun violence, news broke Tuesday that South Carolina is using Black Friday for a tax holiday on firearm purchases. Reports indicate that the state is one of five that provides 85 percent of illegal handguns in New York City.
On Tuesday, U.S. Sen. Kristen Gillibrand, along with Rep. Carolyn McCarthy, unveiled the Gun Trafficking Prevention Act 2009. The act will give more power to local, state and federal law enforcement to investigate and prosecute gun traffickers.
"By cracking down on illegal gun traffickers and their vast criminal networks, we can reduce gun violence and keep our children and families safe," said Gillibrand. "As a mother of two young children, I care deeply about keeping our families and neighborhoods safe and giving law enforcement the tools they need to eliminate illegal guns from the streets and keep guns out of the hands of dangerous people."