Patti LaBelle talks 'Fela!' and her return to Broadway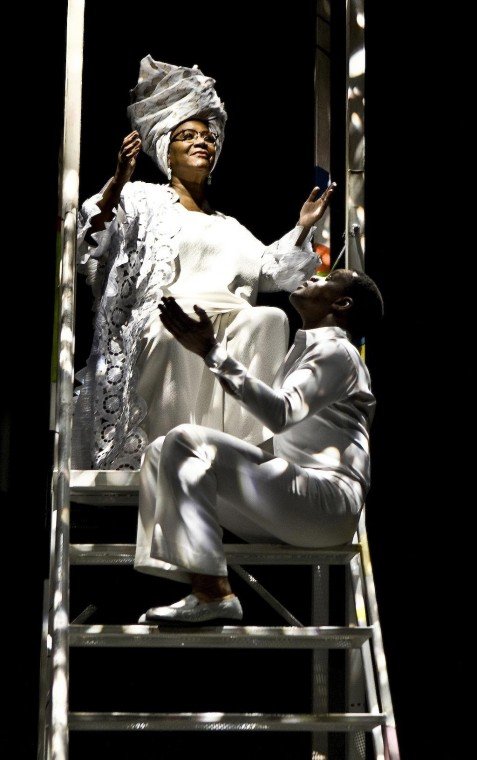 PL: When I saw that boy--Fela--Sahr, I saw him and I was just so impressed and I was impressed with Lillias [White] and I said that's a wonderful role.
AmNews: What do you find is the most rewarding part of being with this show and what is the most challenging?
PL: The most rewarding part is to give that message, and hopefully people will come and hear it. People go to shows and you hope when they leave that they got it. There's still a struggle there, but there are struggles all over. And this is a beautiful man, and I had never heard of him until I saw the play, so this opened me up. And the challenges are none.
AmNews: How did you prepare for the role?
PL: I didn't play, I just read the script.
AmNews: With your singing voice, you have your own style, your own sound, and you brought that style to this role. Was there anything you had to do, like switching it a little bit to get it to Broadway?
PL: I was told not to be Patti LaBelle, but I refused not to be me and had a total respect for Funmilayo's presence, now that I do the play, but it's her spirit. I have to give this lady total respect, but I can't stand up here like I can't sing. This is a spirit who sings. I'm totally respecting the fact that this is not a Patti LaBelle show, but when I open my mouth, I can't change what comes out. That's me. But the people, the producers and all, have been awesome.
AmNews: The way you did the role, you did it beautifully, the way you did the notes, you just hit everything. How has the cast been?
PL: They are so nice. Six of them call me mom. They are so talented and I love being around talent.
AmNews: What do you want the audience to come away with when they see the musical?
PL: I want them to come away with the knowledge of who he was, who his mother was, and how they were fighters and how it's something we all have to strive for--peace--in this world where nothing is balanced.
AmNews: What do you think it means to have a Broadway musical tell the story of such a controversial hero?
PL: I think it's necessary. They have those fairytale plays. Have a real play with substance and with wisdom. The play is sort of like a teacher. It taught me when I saw it.
AmNews: There a lot of great music and beautiful dancing in the show, but there's also a lot of brutality and pain. How do you feel when you're on stage in this moving story?
PL: I feel pain. I cried. When I go to do the scene in the white outfit and it says I was thrown from the window and all those kids had been wounded, you feel it, you feel pain. But I feel pleasure in watching these young people perform.