Patti LaBelle talks 'Fela!' and her return to Broadway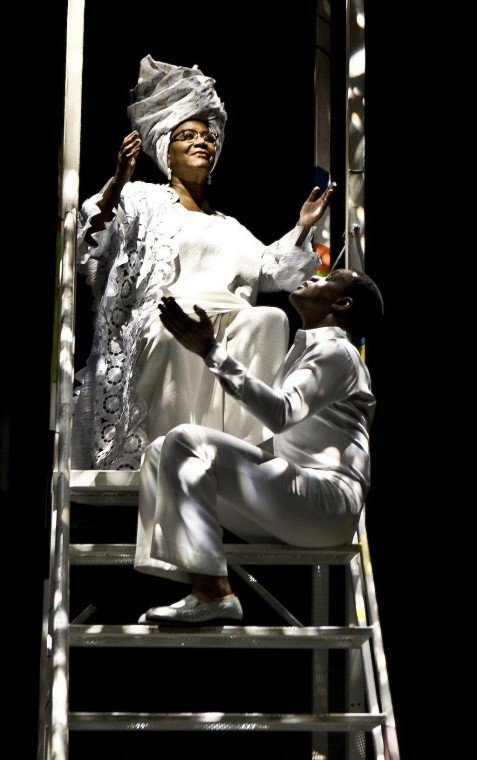 AmNews: You're sharing the songs with the audience, but you're portraying a character, which is something different for you. Does doing this role in "Fela!" mean you're going to consider doing more character roles on Broadway?
PL: Yes, this is the first time I was asked.
AmNews: What advice would you give to young people who want to be successful in the music business, since that's where you are absolutely the queen?
PL: If you want to do it, do it. Don't let anybody tell you what you can do.
AmNews: What about training?
PL: I never trained. I just started singing in my church in Philadelphia when I was younger.
AmNews: What advice would you give someone who is thinking about doing theater work?
PL: There's nothing so hard about it that you can't do. You have to be driven and a constant worker and know that nothing changes. You do the same thing every show. Be ready to wear the same costume every night and be drilled by the director.
AmNews: What do you do to keep your voice in shape?
PL: Nothing. I do this show and I do my Patti LaBelle show. I fly out on Friday and come back for the weekend shows.
AmNews: How do you relax?
PL: I go home and cook and clean and make it pretty and watch TV.
AmNews: "Fela!" is going to end January 2011, what's next for you after that?
PL: I'll just continue doing my shows.
AmNews: Are there any causes or charities that are next to your heart?
PL: Every cause that you can think of: cancer, adoption, diabetes, Alzheimer's, the homeless, everything.
AmNews: I'm not surprised about that, because as I said, when I went to your concert, you were so giving.
LaBelle does all eight shows a week and shares the stage with an incredibly talented cast that includes Sahr Ngaujah and Kevin Mambo, who alternate in the role of Fela, along with an enormous cast of singers and amazing dancers. The musical features a book by Jim Lewis and Bill T. Jones, music and lyrics by Fela Anikulapo-Kuti, was conceived by Jones, Lewis and Stephen Hendel and directed and choreographed by Jones. Make it your business to experience this exciting musical that tells a story of creativity and heroism. For tickets, call (212) 239-6200 or visit www.FelaOnBroadway.com.