'Political high noon, economic midnight,' says Rev. Jackson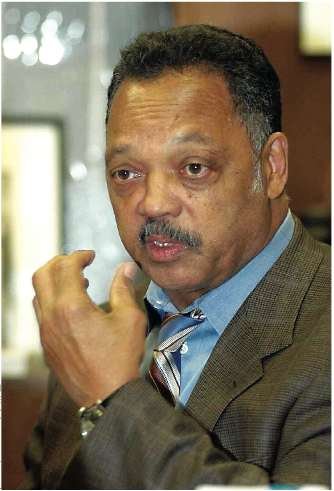 When asked about the current controversy surrounding Illinois Governor Rod Blagojevich and his selection of Roland Burris to fill the senatorial seat vacated by Barack Obama, Jackson had no comment, nor would he address the crisis in Gaza, though he did state that the situation over there cannot be ignored. He was prepared, however, to discuss the connection between Obama's rise and the legacy of Dr.King.
"President Barack Obama is the result of 60 years of struggle for civil and human rights in this country," Jackson said. Citing historical events, he began with the Truman administration in 1948, through the courageous stance of Rosa Parks in 1955, the Voting Rights Act in 1965 and the right to vote given to those 18 years old in 1970. He to be reminded of his own historical bids for the presidency, along with those of Dick Gregory, Shirley Chisholm, and most recently, his friend and colleague, the Rev. Al Sharpton. "It's been a 60-year-old political relay race, and Obama is running the anchor leg to victory," Jackson added. There is sure to be more on Obama and the economy at the summit, whose theme this year is "Fallout from the Bailout: A New Day in Washington."
The conference is from January 13 to 16 at the Sheraton New York Hotel & Towers, 811 7th Avenue at 53rd Street. For additional information, go to www.wallstreetproject.org. "Because of the economic downturn, registration for the conference is $50 plus meals," Jackson concluded.