Prince brings early Valentine's Day gift to NYC
Misani | 4/12/2011, 4:45 p.m.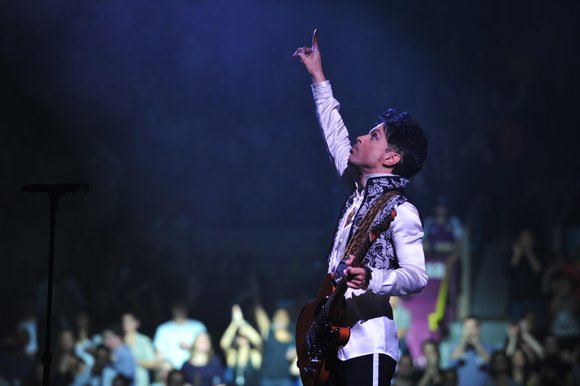 Prince has sold 100 million records worldwide, and, according to Robert Larsen's "History of Rock and Roll," the artist is "one of the most talented and commercially successful pop musicians of the last 20 years." A phenomenal artist, songwriter, musician and performer, Prince is credited with producing ten platinum albums, 30 Top 40 singles, and a milestone discography that boasts one album a year from 1978 to 2010, excluding 1983, 1993, 1997, 2005, and 2008, though he made up for those years with multiple records in 1994, 1996, 1999, 2003 and 2004.
One of the most diligent, creative, and visionary artists of the last three decades Prince's discography includes "For You" (1978); "Prince" (1979); "Dirty Mind" (1980); "Controversy" (1981); "1999" (1982); "Purple Rain" (1984); "Around the World in a Day" (1985); "Parade" (1986); "Sign o' the Times" (1987); "Lovesexy" (1988); "Batman" (1989); "Graffiti Bridge" (1990); "Diamonds and Pearls" 1991; "O(+>" (1992); "Come" (1994); "The Black Anthem" (1994); "The Gold Experience" (1995); "Chaos and Disorder" (1996); "Emancipation" (1996); "Crystal Ball" (1998); "The Vault: Old Friends 4 Sale" (1999); "Rave Un2 the Joy Fantastic" (1999); "The Rainbow Children" (2001); "One Nite Alone"(2002); "Xpectation" (2003); "C-Note" (2003); "Musicology" (2004); "The Chocolate Invasion" (2004); "The Slaughterhouse" (2004); "3121" (2006); "Planet Earth" (2007); "Lotusflow3r /MPLSound" (2009); and "20Ten" (2010).
With this outstanding body of work, there'll be something for everyone at the "Welcome 2 America Live" concert. And Madison Square Garden, which touts itself as "The World's Most Famous Arena"--well, as large as it is, you can bet that with all that energy that's about to liberate New York it will not be huge enough contain the party of 2011 that's about to get underway with the beloved, phenomenal artist known as Prince. Just ask his archangel.