'Revelations'--celebrating the 50th anniversary of a masterpiece
Zita Allen | 4/12/2011, 5:26 p.m.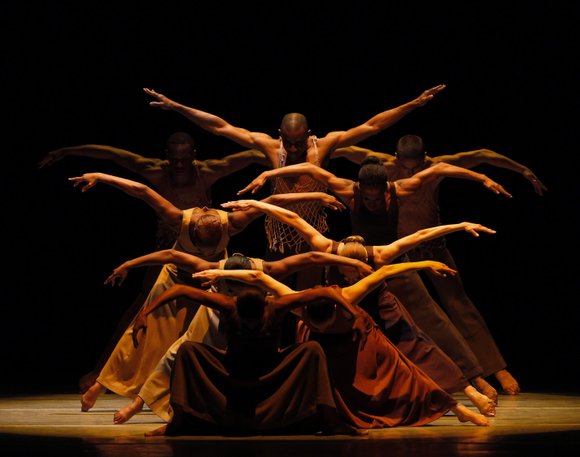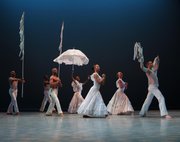 This year marks the 50th anniversary of Alvin Ailey's iconic masterpiece "Revelations" and with Artistic Director Judith Jamison at the helm, the Alvin Ailey American Dance Theater is staging a tribute that will rock the soul of everyone lucky enough to attend the company's annual City Center season this month.
The magic of "Revelations" begins the moment the curtain goes up on dancers, arms and gaze straining heavenward, bathed in a pool of light on an otherwise darkened stage, as a choir sings "I Been 'Buked," the first of a series of soul-stirring spirituals linking three sections of "Revelations."
With that this masterpiece, which has thrilled millions from Manhattan to Moscow since its premier in 1960, takes the audience on a spiritual journey that begins with the solemn "Pilgrim of Sorrow" section, and ends with the exaltation of "Rocka My Soul in the Bosom of Abraham."
Today, "Revelations" is described with a mix of poetry and prose or breathy superlatives. One writer called it "Ailey's burning exploration of grief and joy." Others have labeled it "awe-inspiring," "magnificent" and such. It is all those things and them some. "Revelations" is a dance that both embodies the spirit of an era in our history and something as timeless as the struggle for freedom.
Years ago, while writing one of the AAADT's anniversary souvenir books at Ailey's invitation, I had the privilege of spending hours with this gentle genius pouring over photos and listening as he shared the memories and insights they inspired. I have also been blessed to be the recipient of similar gems from Ailey dancers like Carmen de Lavellade, Ella and Charles Moore, Joyce Trissler, Thelma Hill, Dudley Williams, Michele Murray, Kelvin Rotardier, George Faison, Mari Kajiwara, Masazumi Chaya, Sarita Allen, Ulysses Dove, Joan Peters, Sylvia Waters and Judith Jamison, not to mention current company members like Rene Robinson, Matthew Rushing, Clifton Brown, Hope Boynkin and others.
Many of their memories are united by the understanding that this special blend of the personal and universal embodied Ailey's vision. "Revelations" is the quintessential example of this with its literal references to Ailey's Texas childhood mingled with allusions to the era in which the dance was born: the 1960s and the civil rights struggle that dominated the national narrative at the time.
It's important to remember that Ailey created "Revelations" when the nightly news was filled with iconic scenes of the civil rights era. Black youngsters staging sit-ins at white-only lunch counters. Children being pummeled by high-powered jets of water from fire hoses or threatened by snarling police dogs. Freedom riders. Marchers. Newly registered voters. All courageously taking their lives in their hands in the quest for social and economic justice.
In these early days of "Revelations," audiences--at home and abroad--didn't need program notes to understand that this work spoke of both something infinitely spiritual and something as earthly as the cry for social justice. It is a testament to Ailey's genius that even now, 50 years later, "Revelations" transcends barriers of time, culture and geographical boundaries to move millions.
As Judith Jamison has told me, "Alvin had a vision, and we all saw the vision. That's why we lent our bodies and our minds and our spirits. And we knew it was God-sent, so we couldn't go wrong. In the meantime, here we are 50 years later still believing in the light that comes from this vision." Of "Revelations," Judith Jamison has said, "It means the world to me to have done that ballet."
It has meant the world to many who have seen it through the years. and this season's celebration of its 50th anniversary is a testament to its power.