Road To Success-The story of an up and coming tennis pro
4/12/2011, 4:40 p.m.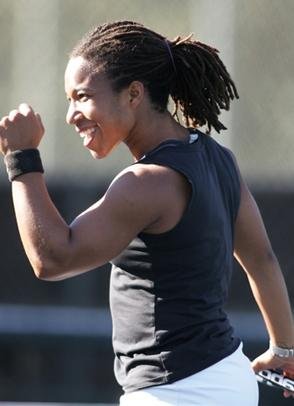 Megan Moulton-Levy
WTA participant
First let's do a little recap. After the WTA at Stanford I went to Vancouver to play a 75K. I lost first round of singles--it was a tough three set match. I came up just short again, but at least I was not running from anything. I was in the matches, I was dealing with my nerves and trying to find ways to not let them take over. I put my foot down and said enough is enough. I know that these mental challenges that I am working through are not just going to be fixed over night. Just like working on a serve or a forehand they take months and years to get better. Anyway long story short I am doing all that I can so now I just have to sit back and wait until it all comes together.
Doubles to me is a different story! In Vancouver I played with Christina Fusano and we got to the semifinals. Our first match was against a hard hitting Anna Tatishvili (who I used practice with at Everts when she was the tiniest thing) and a crafty Jorgelina Cravero. I thought we were in some serious trouble, however, our two up doubles skills were too much for them to handle.
In the quarters we played Mashona Washington and Yi Chen--that was the same team that Mallory and I crunched in Boston. I walked into that match thinking we would win for sure, but I knew it would not be as easy as it was in Boston. I had another thing coming. Mashona had a look in her eyes like "you did it once and I am not going to let you do it again." The match came down to a third set breaker 11-9 in our favor. There is no way for me to convey to you on paper
what happened in that match. It was a battle. There were grunts and screams thrown around the court; it was intense. I walked off the court feeling shocked and spent.
I think we left all of our juice in the quarterfinal match because we were off the next day. We played Madison Brengle and Lilia Osterloh. They played well but Christina and I were off and there was really no helping that so we lost 6-2 6-2.
There were two weeks in between Vancouver and the qualies of the Open. It was time to get ready for NYC. I hurt my ankle in Standford--I slipped in the shower...who does that?-- so that was a great opportunity to get it checked out. Courtney's mom called and got me an appointment the day after she called. Of course she had to tell the doctor that I am a professional tennis player and I needed to be seen right away because I needed to know what was wrong before I played the Open. Wait did I say I was playing the Open? Who was I kidding? I was 12 out of the quailes of the Open at that time. He did not need to know that :). I usually don't like to tell people what I do, however, I have decided I might start using that card more often. I got to sign the MRI machine and got the CD of my MRI within minutes. I really enjoyed the star treatment. It stinks that the star treatment did not help my foot at all. I ended up being diagnosed with a bone bruise that I have to nurse back to recovery.