Rocking steady: Rev. Byron Benton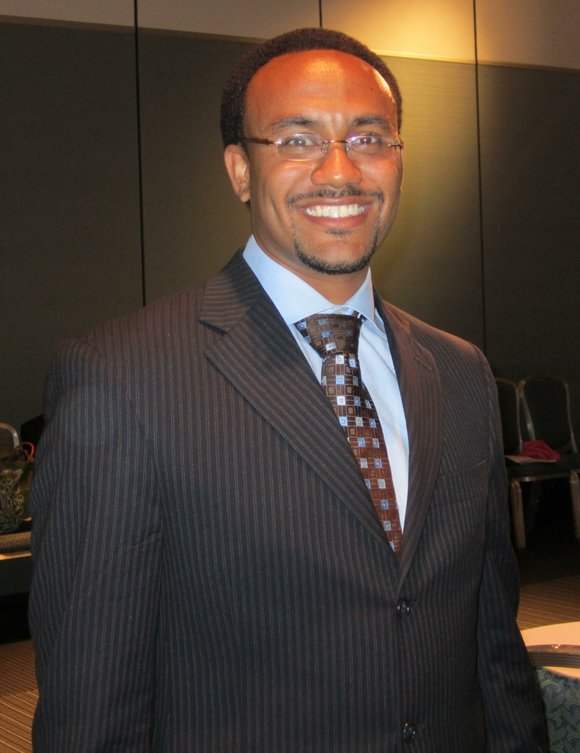 Rev. Byron L. Benton is moving to his own beat in Brooklyn and taking some of the neighborhood kids with him. Benton, 28, serves as associate pastor of the Berean Baptist Church in Crown Heights. At the church for three years now, Benton also leads the nearly 100 youth who participate in the church's youth activities and founded the Berean Community Drumline.
Born in Greensboro, N.C., Benton said that he never thought he would end up in the Big Apple. He comes from a strong genealogy of those in ministry before him--his maternal grandfather and great-grandfather were both pastors.
"When my mother was pregnant with me, my grandmother told her that I was going to be the next minister," he said. "As a young kid I had an understanding that that would be my calling."
At the same time that his mother was pregnant with him, another of his callings was discovered. She was also a majorette instructor for a high school marching band and whenever the drums would play, Benton would kick.
"From the time I came out I was beating on everything. Rhythm is everything to me," he said.
By the fourth grade Benton was playing drums for a band, and in high school he played in the marching, jazz and symphonic bands. He won several awards for music during his youth in North Carolina's all-city and all-state percussion competitions.
Benton went on to the historically Black North Carolina A&T State University in his hometown, where he joined the famed Blue and Gold Marching Machine marching band. He became section leader of the band's percussion section while earning his degree in business education and administrative systems.
After briefly working as a middle school teacher, Benton said he had to stay on the course of his calling and become a minister. He was accepted into Princeton Theological Seminary, where he earned his Master's degree in divinity. While at Princeton, Benton served as a chaplain at Trenton Psychiatric Hospital and chaplain of the Association of Black Seminaries at Princeton. He also won several awards at the Ivy League school.
But it was an internship at Berean Baptist Church where he found his niche. There he helped build the church's now-thriving youth program and formed a bible study program for youth. His experience was so positive that he decided to stay.
He said, "It was such a wonderful experience that that I joined the church so that I could continue to work with the youth. I couldn't leave my kids."
In 2008 he wanted to incorporate his other passion into his ministry and so formed a drumline at the church. Because the church could not afford drums, Benton began teaching students basic percussion techniques by beating on tables. Thanks to grants and donations from Congressman Ed Towns and Aetna, the drumline that began with six students now boast a squad of 44 students, including a dance team.
Today the drumline rehearses twice a week and incorporates a physical fitness program. Students are required to keep up superior grades in order to participate. Several of the students have since gone on to college, with some participating in HBCU marching band programs.
The Berean Community Drumline has performed at parades, block parties and festivals. The group has also played at Brooklyn Borough Hall and the Christian Cultural Center. Next week the drumline is traveling to Atlanta to play for the Interdenominational Theological Center.
"I never wanted to be in New York City, but I love it here," Benton said. "I want to be able to teach this program to others so that it can be multiplied."