SCROOGED!
Herb Boyd | 4/12/2011, 4:34 p.m.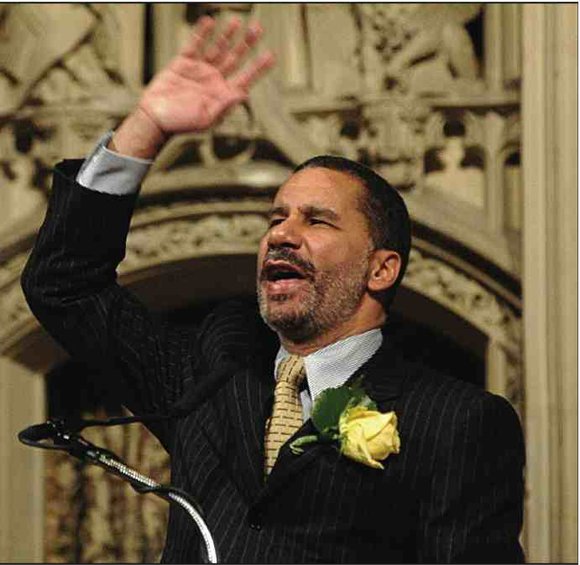 Facing the largest budget deficit in the state's history, it was generally understood that Gov. David Paterson's plan would include some painful cuts. And with surgical precision, Paterson balanced the budget a month before it was due, hoping the hard decisions were soothed somewhat by increases in revenues and several reform measures. Paterson, in typical fashion, tried to make light of the difficult task before him by citing the shoe tossing at President Bush and then quoting Langston Hughes. "He once defined humor as laughing at what you haven't got when you ought to have it," the governor began.
But clearly a more than $15 billion budget deficit over the next two years is nothing to laugh about, and that was the last piece of funny business until his mention and dismissal of "Saturday Night Live," on which his blindness was lampooned.
"For years, record revenues from Wall Street allowed state spending to increase at an unsustainable rate," Paterson said. "With the financial services industry in the midst of an unprecedented crisis, we must fundamentally reevaluate what our state can afford to spend.
"Change is unavoidable," he continued, "and the proposals I have put forward today begin the difficult process of adapting to a new fiscal reality. Just like thousands of families across New York, our state government needs to tighten its belt and limit spending to what we can afford."
Paterson's plan is divided into two parts: a 2008-09 Deficit Reduction Plan and an Executive Budget proposal for the fiscal year 2009-10.
Some of the highlights of the plan include a $50 million reduction in Environmental Protection Fund spending, an increase in SUNY annual undergraduate tuition from $4,350 to $4,970, which has been approved by the SUNY board of trustees, and a 10 percent reduction in community college base aid.
"Of the original $2 billion in savings proposed in November," Paterson said, "over $1 billion are no longer possible to achieve before the end of the fiscal year. They have been replaced by $771 million in new savings put forward today."
And the misery index wasn't improved when Paterson disclosed his executive budget. School aid in 2009-10 will be reduced by $698 million, or 3.3 percent, from 2008-09,he said. "But even after reductions, funding for school aid would still total $20.7 billion in 2009-10, a 42 percent increase compared to 2003-04."
In the category of higher education, the executive budget will establish the New York Higher Education Loan Program (NYHELPs), which will provide a minimum of $350 million in loans to approximately 45,000 New York State residents attending colleges and universities. The interest rates, Paterson explained, will be much lower than those available in the private loan market.
The budget proposal in the area of healthcare and Medicaid is to limit spending for the latter to $16 billion, an increase of 3.8 percent from 2008-09.
And for the first time in 18 years, the executive budget-would increase the basic welfare grant, Paterson said. The grant would increase by 10 percent, from $291 to $320 in January 2010, by another 10 percent to $352 in January 2011, and by a final 10 percent to $387 in January 2012.The budget also preserves funding for core programs such as foster care, adoption, child and adult protective services, and domestic violence services. Savings are achieved by reducing or eliminating a number of non-mandated services, many of which have provided valuable services but are supplemental to the state's core mandated programs.