SCROOGED!
Herb Boyd | 4/12/2011, 4:34 p.m.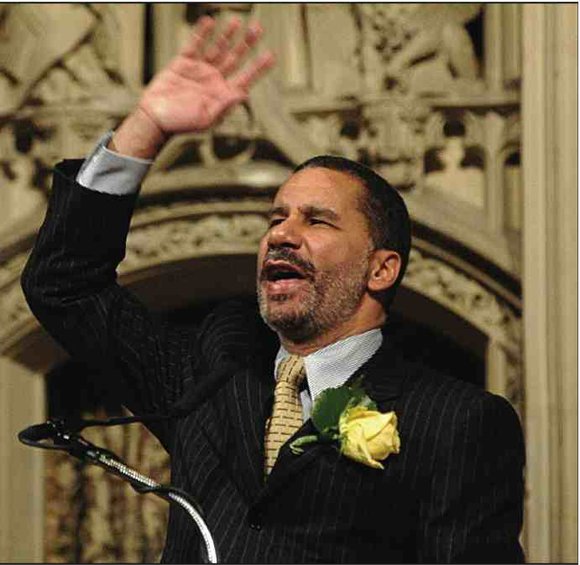 "I like his plan to have wine sold in our grocery stores," said Harlem Assemb. Keith Wright. "That will bring about an annual $150 million in additional revenue. What you have to like about the governor's plan is that he doesn't want the budget to be balanced on the backs of the poor and the working class."
Senate Democratic leader Malcolm Smith of Queens also praised the governor's budget proposals. "We applaud the governor for putting together an honest and courageous executive budget," he said. "Senate Democrats intend to thoroughly review its proposals and discuss them within our conference. From the upstate counties to the suburbs of Long Island, Senate Democrats will help lead our state out of the worst fiscal crisis since the Great Depression, by funding a fair budget that will allow us to reduce spending without severely impairing the state's ability to provide essential services. "Times are tough," Smith added, "and so are the choices we have to make, but any cuts must reflect the principle of shared sacrifice among all sectors as we work together to return our state to fiscal solvency."
Senate Majority Leader Dean Skelos, while commending Paterson, was nonetheless mindful of Senate Republicans, who are concerned about the governor's plan to increase taxes and fees by more than $6 billion. "The budget eliminates property tax relief, calls for local aid cuts that will force property taxes higher, and asks New Yorkers to pay a long list of new and increased taxes and fees that will make it even more difficult for taxpayers to make ends meet.
"We simply cannot raise taxes when our economy is struggling," Skelos said. "Upon first review, the governor's budget does not appear to include any plans to create new jobs and strengthen our economy, especially upstate. Nor does the executive budget call for any further investments in our highway and bridge infrastructure that is so critical to our economy. The Senate passed a job creation plan yesterday that should be part of budget discussions as we go forward."
On the tax issue, State Sen. Bill Perkins said there was a regressive tax structure in place and it needed to be modified. "It makes no sense for a doorman to be in the same tax bracket as Donald Trump," he asserted. "Yes, we're going to take hits from the budget, but at least the governor is not just dropping the load on the poor and the impoverished."
City Councilman Charles Barron agreed, saying, "This is a regressive tax. He is balancing the state budget on the backs of the poor. Why does he refuse to tax the millionaires who can afford to contribute more? If he did tax the wealthy who earn $500,000 or more-- less than 1 percent of the population--that is 97,000 people-- that would bring us $6.8 billion annually. For the governor to say that he is saving that for next year's deficit is ridiculous. And for that matter, for the city--when was the last time Madison Square Garden paid taxes? Governor, we are bleeding enough. Stop the cuts."