Should Blacks support Michael Steele?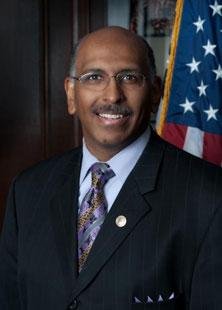 We are not suggesting that we expect all Black people to think exactly the same way--diversity of viewpoints in our community is a great strength. And even if he may be coming at these issues from a different angle, shouldn't we be glad that there is someone of color in the room as policies and strategies are being formed? Does his presence at the table help the Black community? Perhaps--if he is indeed a leader, although at times, he seems more like a figurehead.
I was embarrassed for Steele last year when he declared himself the head of the Republican Party over Rush Limbaugh and was forced to apologize when that bigoted idiot took him to the woodshed with conservatives on his radio show. But I was pleasantly surprised last November when Steele questioned President Obama's premature intervention into New York State politics and request that Governor Paterson withdraw from the race. Steele raised questions that a lot of African-American New Yorkers were thinking at the time: Why was a Black president asking a Black governor not to run?
Steele has a tough job in a difficult time in the Republican Party. While the Republican Party is shrinking as its pool of conservative white supporters is aging, dying off and becoming a smaller percentage of the overall population, he also has to deal with a rabid base that feels no shame at spitting at and flinging racial slurs at civil rights/political icons like John Lewis. And within this framework, he still has to try to make a case why we should not only support him, but his party.
I do not envy him or his mission.