Sir Shadow walks to his own rhythm in life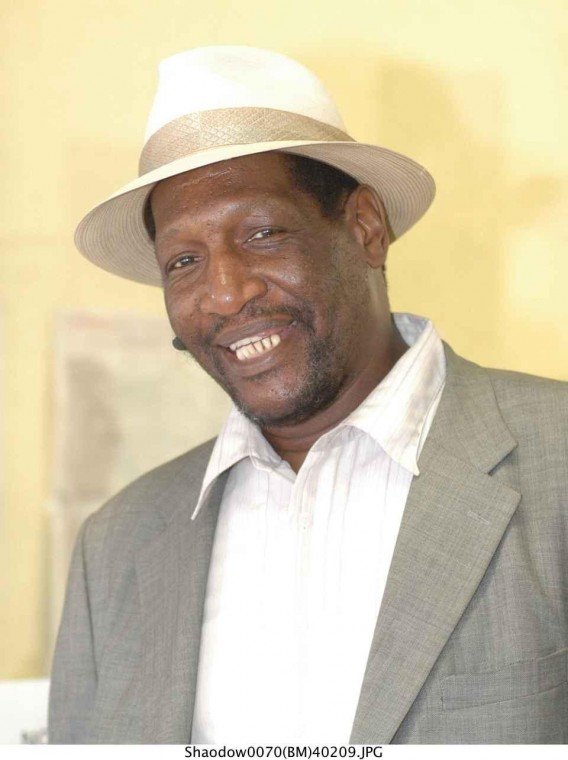 A rhythm that Sir Shadow wants to portray to the world through his one line art work, poems, calendars and books that are predicated off the belief that "It's not the cards dealt to us, it's the ones we choose to pick up" that really matter in life.
That is the mantra and philosophy that Sir Shadow lives by, which he portrays through the strokes of his pen when creating one of kind artwork and poetry, which he calls "art flowetry."
Shadow determines that if you want to pick up anger or giving up, peace or stress, pain or joy, it's all up to you and the card you choose to hold in life.
"I broke it down to one page. Whoever is talking about empowerment of one's sprit and soul, they got to come here. They have to include this in here. This is the core. This is the beginning. Everything goes with your choice," Shadow told the Amsterdam News at the Uptown Juice Bar on 54 West 125th street in Harlem, New York, where his poems and artwork grace the walls in the back.
Shadow's art is not only beautiful to behold in a frame, but even more engaging when watching him create it while singing a song under his breath and speaking about the power of right thought while gliding the pen across the page.
Most may have never heard the importance of seeing life through the lens of self-love, love of people, and music the way Shadow talks about it with his art, which he refers to as "medication for the patient."
"By me being who I am, sticking to who I am, that's how the art came to me, that way the free flow of just using the moment to draw or write about a puddle I seen after the rain or just doing little things that I felt was just keeping me alive," he said about his acclaimed work, which hangs in restaurants around the city and has gotten the attention of numerous celebrities.
"It's not about me. I surrender to the art. I'm a tool of the art," he said. "It's about the people. I'm here to inspire and uplift as they inspire and uplift me."
Shadow's been perfecting his art of uplifting people for 30-40 years and has always, whatever was going on in his life, made time for a poem or a drawing he started as a child when he didn't think he was doing anything important.
While people see art in his work and written word, Shadow sees a message of hope and strength with every line.
First, Shadow says he realized that there was something wrong with the world. Then, he said, he found that it wasn't the world that was the problem. It was our perceptions of it.
"It's nothing wrong with the world because the world is right and exact, it's we," he said. "We are the problem, we are our worst enemy. I realized that the problem was us understanding us: understanding who you are, what you are, what you stand for and what are the things that take you away from being the true you. And what are the things that give you distraction. And I find it's your mind," he said.