SNOW JOB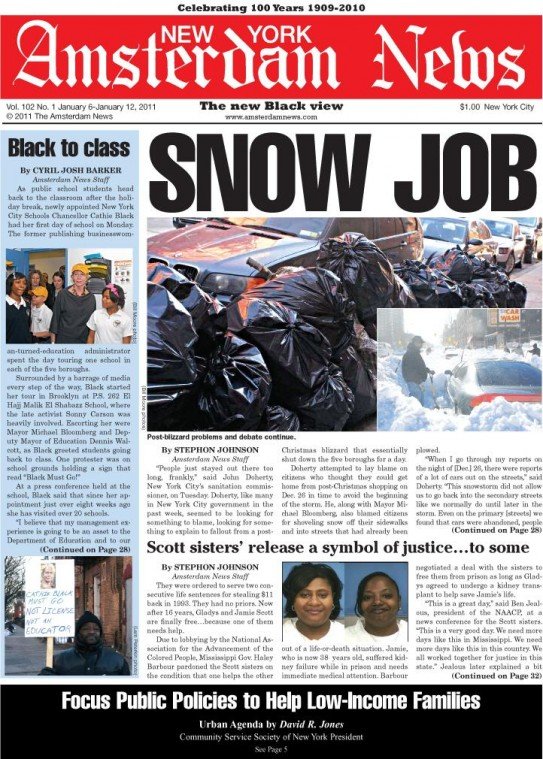 Issues in Staten Island could be rated as being by far the worst in the city, as the blizzard left many people snowed in on the island for days. City Councilwoman Debi Rose said that she was not able to get out of her own home for three days after the blizzard. She said Staten Islanders were also not informed that the Verrazano Bridge was closed, leading many people to miss work for days and lose pay.
"We really felt what it was like to be the forgotten borough," Rose said. "People were snowed in for days. I didn't get out until Thursday...By no stretch of the imagination were all of our streets clear."
Rose has been proactive in getting feedback from her constituents on how the city performed after the blizzard. Her office set up an online survey to get an idea of how bad things were. She said that the people deserve answers so that a similar scenario doesn't happen again.
"There's no excuse for this happening," she said. "I don't anticipate having this experience again. The mayor would be crazy to have a recurrence. Somebody is going to have to answer to why this was allowed to happen."
But it now looks like the investigation into the "go slow" has made its way up the government chain. Federal prosecutors are now looking into claims of a deliberate slowdown during the blizzard recovery process. But the inquiry, coming from the U.S. attorney's office in Brooklyn, is only preliminary.
When the AmNews contacted the Sanitation Officers Association (Local 444 SEIU), we were told that we'd receive a response to news of the investigations once their spokesperson made it back from days filled with meetings. As of press time, the AmNews was still waiting for a response. Through other media outlets, however, union leaders denounced and condemned claims of a "go slow," and said that reduced manpower had contributed to the slow recovery effort by the Department of Sanitation and the city at large.
But on the Sanitation Officers Association website, there's no doubt where the union's focus lies.
"[President] Joseph Mannion has been in talks with the Office of Labor Relations and will continue to try to work out a means to retain all officers," read one of the featured statements on the website's home page. "While the city may not be willing to state this, we know getting supervisor levels and all employee levels to the place they need to be is in the best interest of the work force and most importantly the public."
Reports have also surfaced that little over 600 sanitation employees called out from work under their supervisors' orders. Doherty said that 600 callouts were a normal rate, and even on the one day they did receive more than 600 callouts, they made up for it when some of those callouts came to work later on that night. But with reports of the city not calling for outside help until about 30 hours after the National Weather Service had raised the winter storm warning into a winter storm watch (not to mention 933 complaints fielded between 9 a.m. on Dec. 27 and 5 p.m. on Dec. 29), some local officials have derided Bloomberg and the city for pouring out excuses to explain a lack of immediate response.