SNOW JOB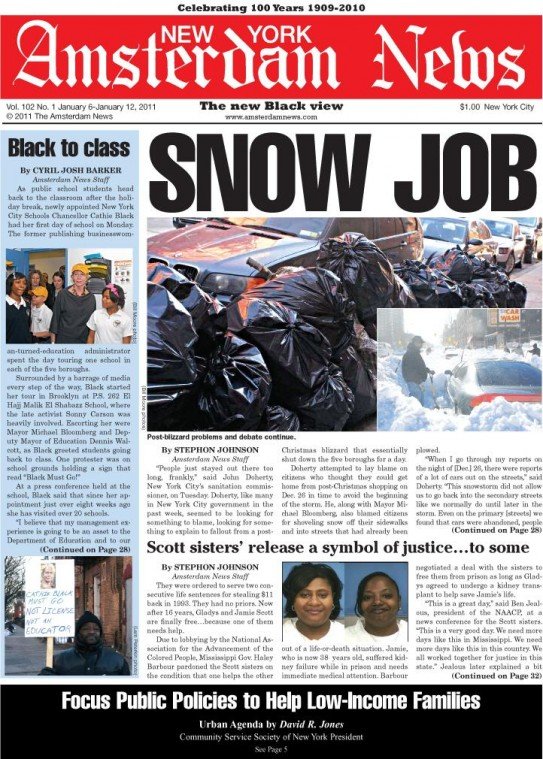 "It is unacceptable that Mayor Bloomberg did not issue a citywide snow emergency on Saturday, December 25, after the National Weather Service forecasted a blizzard with up to 14 inches of snow," said Councilman Robert Jackson. "The administration's failure to decisively act crippled the city for an entire week, left police, fire and ambulance vehicles unable to reach people for hours on end, and resulted in the suspension of garbage and recycling pickups, alternate side of the street parking regulations and parking meters."
In response to Halloran's comments, the Department of Investigation issued formal statement regarding the investigation, which read: "DOI has been working 24/7 on this investigation, and we continue to pursue leads about potential deliberate wrongdoing by action or inaction relating to the snowstorm. DOI is investigating any evidence of intentional acts by commission or omission, and evidence of encouraging, suggesting or participating in a work slowdown." The DOI urged city employees especially to come forward with any evidence and promised that all information would be kept confidential.
But some of that information might get out sooner than expected. One lawyer, Aymen Aboushi, is getting ready to sue the Metropolitan Transit Authority over the seven-to-eight hour shutdown of the A train during the blizzard. Several straphangers have signed onto the suit and Aboushi, along with the Aboushi Law Firm, is encouraging others to do so as well.
During Tuesday's news conference, one reporter asked Doherty, "Does the name John Lindsay mean anything to you?" Doherty, along with Bloomberg and many others, is finding out the meaning right now.