Spider-Man meets Obama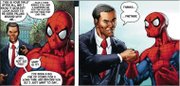 Throughout history, comic books have been under the radar when it comes to doing social commentary; covertly covering important issues under the guise of providing entertainment for kids. From having Captain America face-down the Nazi threat to the Fantastic Four facing nuclear technology and space travel. From creating African-American superheroes in the 1970s, like Luke Cage and Black
Lightning that were equal parts controversial and obscure, to having major head-line characters like the Black Panther and Storm of the X-Men.
Comic books have done their best to cover serious situations as best they could, from abusive parents to drug use, to having a character die of AIDS in the pages of "The Incredible Hulk."
Now, Marvel Comics takes on another issue of social change, as their flagship superhero Spider-Man meets the proclaimed "champion of change" Barack Obama.
The issue is slated to hit comic book shelves Jan. 14. There will be two versions of the issue, with the second cover being drawn by comic artist Phil Jimenez.
This is not the first time a comic book hero came face-to-face with an American president. In the 1960s Superman, Supergirl and Superboy came face-to-face with John F. Kennedy.
According to the Marvel web site, the story will revolve around an old Spider-Man villain trying to crash the inauguration party.
That would give some perspective on how big a deal this incoming inauguration is seen by most of the world. Though it raises the question, which superhero would have gone to meet our last president? Captain Planet?