Stellar exhibits at ICP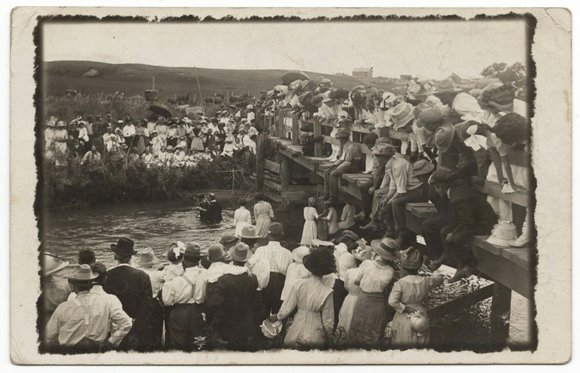 Black History Month might be over, but the International Center of Photography is offering two important exhibits which offer an important look at Black life.
"Take Me to the Water: Photographs of River Baptisms" documents the religious ceremony of baptism. While baptisms were not usually on display for public witness outside of the church family, public river baptisms flourished in the South and Midwest between 1880 and 1930 as a result of economic depression and religious fundamentalism.
After the debut of the picture postcard at the 1893 World's Columbian Exposition in Chicago, the humble postcard became a major instrument for disseminating information and images.
At the height of postcard fever (1890s-1920s) real photo postcards and photomechanical postcards depicting river baptismal scenes were produced. While some postcards showed family and friends and the dignity of this solemn ritual, the mass-produced cards presented these river rituals as attractions for outsiders. They were produced and sold as souvenirs for tourists and often had racist titles like "Genuine Negro Baptism." These cards serve a historic purpose in their documentation of these events.
Jasper, Texas, was barely a blip on the radar screen until the country was rocked by the brutal 1998 murder of an African-American man named James Byrd Jr., a crime that referenced the ugliest chapter in American history and forever mired the small East Texas town in infamy. Byrd was chained by his ankles and dragged to his death behind a pickup truck driven by three whites who were tried and convicted for the murder.
Alonzo Jordan (1903-1984) was a barber, educator and deacon in his church. For more than 40 years he was also a distinguished and respected photographer in Jasper, Texas. Jordan took pictures for local papers as well as of local Black townspeople, capturing images of weddings, homecomings, family gatherings and parades and other aspects of life for Blacks in this segregated town. Ironically, it was Jordan who snapped Byrd's high school graduation portrait, whose murder would later draw attention to the town and, subsequently, to Jordan's body of work.
In addition to giving the viewer a look at Black life in this sleepy Southern town, "Jasper, Texas: The Community Photographs of Alonzo Jordan" also includes video testimonials of Jasper residents who knew Jordan and sat in front of his camera.
"Jasper, Texas: the Community Photographs of Alonzo Jordan" was organized by Alan Govenar, author, folklorist, photographer and founder of Documentary Arts, Inc., a nonprofit organization that presents new perspectives on historical issues and diverse cultures.
"Take Me to the Water" is drawn from a unique archive of vernacular photographs of river baptisms donated to the International Center of Photography in 2007 by collectors Janna Rosenkranz and Jim Linderman, and includes vintage real photo postcards, mass-produced postcards and a panorama. The exhibition is accompanied by a volume also titled "Take Me to the Water," published by Dust to Digital Press in Atlanta; the book, which includes a CD of religious songs, was nominated for a 2009 Grammy Award.
Both exhibits are on display now through May 8 at the International Center of Photography located at 1133 Sixth Ave. at 43rd Street.