SUPREME CHOICE
Herb Boyd | 4/12/2011, 4:37 p.m.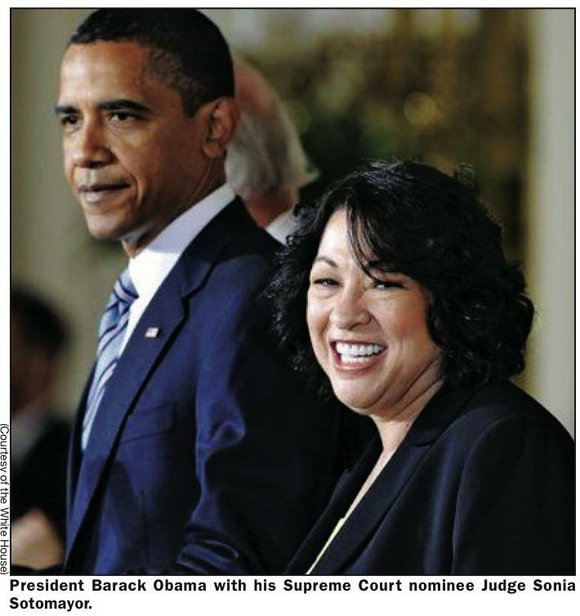 Sonia Sotomayor, a judge on the United States Court of Appeals for the Second Circuit, based in New York City, will be President Barack Obama's nominee to fill the Supreme Court post vacated by David Souter. For weeks, Sotomayor, a Puerto Rican born and raised in the Bronx projects, was considered among the top contenders for the bench, and if confirmed will be the first Latina and third woman to sit on the nation's highest court.
"What Sonia will bring to the Court...is not only the knowledge and experience acquired over a course of a brilliant legal career, but the wisdom accumulated from an inspiring life's journey," said Obama during his announcement at a Tuesday press conference with Vice President Joe Biden and Sotomayor.
Obama had stated that his choice would be someone who possessed a keen mastery of the law, rigorous intellect and clear understanding of the complexity of the law--and some- one without a particular ideological agenda, but "empathy" for the aggrieved and those discriminated against.
"It is a daunting feeling to be here," Sotomayor said, with her mother, Celina, and brother Juan among those in the audience. "Eleven years ago, during my confirmation process for appointment to the Second Circuit, I was given a private tour of the White House. It was an overwhelming experience for a kid from the South Bronx. Yet never in my wildest childhood imaginings did I ever envision that moment, let alone did I ever dream that I would live this moment.
"Mr. President," she continued, "I greatly appreciate the honor you are giving me, and I look forward to working with the Senate in the confirmation process. I hope that as the Senate and the American people learn more about me, they will see that I am an ordinary person who has been blessed with extraordinary opportunities and experiences. Today is one of those experiences." And it was her extraordinary life story that may have been far more decisive in her selection than anything else, Obama seemed to suggest. "Judge Sotomayor has lived the America Dream," the president said. "Born and raised in a South Bronx housing project, she distinguished herself in academia and then as a hard-charging New York district attorney."
Sotomayor, 54, has a life story that mirrors some of the daydreams she had as a child pretending she was Nancy Drew or Perry Mason. Hers is a Latina Horatio Alger story in which she was, stricken with Type 1 (or juvenile) diabetes at 8 years of age then lost her father at 9. She credits her determined and devoted mother for her success while coming of age in public housing projects in the Bronx and going on to academic acclaim at Cardinal Spellman High School and later as a summa cum laude graduate of Princeton University.
After distinguishing herself at Yale Law School, where she was an editor of the Law Review, Sotomayor was tapped by District Attorney Robert Morgenthau as an assistant district attorney. Then she was a litigator at the New York law firm Pavia & Harcourt, specializing in intellectual property and copyright cases.