SUPREME CHOICE
Herb Boyd | 4/12/2011, 4:37 p.m.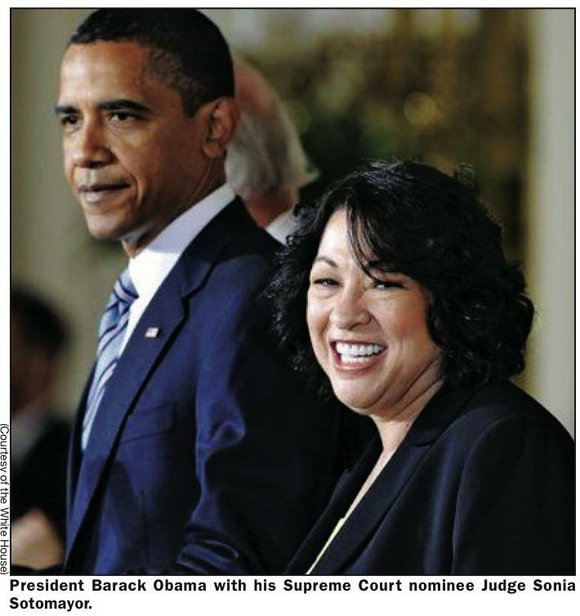 In 1992, Sotomayor was nominated to the U.S. District Court by a Republican president, George H.W. Bush, and promoted to the Federal Court of Appeals by a Democrat, Bill Clinton.
Over the last 11 years, she has served on the United States Court of Appeals for the Second Circuit, where as part of a panel, she voted to uphold New Haven's decision to throw out a set of fire department promotion tests because no minority candidates made the top of the list. That case is before the Supreme Court, and if she becomes a justice, it will be interesting to see how this plays out.
"I am extremely elated by this choice," Judith Kaye, former chief justice of the New York State Supreme Court, told Dominic Carter on NY1. And the nomination has caused a ripple of excitement across the nation, particularly among Hispanics and African-Americans. Members of the New York State Senate's Puerto Rican/Latino Caucus announced their jubilation in a press statement and through individual elected officials.
Chairman and Sen. Rev. Ruben Diaz stated: "I congratulate President Obama's selection of Justice Sonia Sotomayor as his nominee for the United States Supreme Court. It is my honor as state senator representing the district that includes Bronxdale Housing, the very housing projects where Judge Sotomayor grew up." "Judge Sotomayor brings more than 15 years of experience as a federal judge and a real-life perspective to the court," said Rep. Charles Rangel, chairman of the House Ways and Means Committee. "Her trailblazing story is a classic American tale, the kind of story that parents tell their newborns as they swaddle them goodnight. That she should be considered for this prestigious post is not surprising given her qualifications. That her nomination be placed before the Senate is the kind of bold leadership that we have come to expect from this White House--the kind of inclusive decision-making that is moving this country in the right direction for all its people."
Marc Morial, president and CEO of the National Urban League, said: "We urge the Senate to promptly move forward on Judge Sotomayor's nomination and look forward to continuing to work with President Obama on this and future judicial nominations to ensure that our nation's courts fulfill their mission of ensuring equal justice under the law to all."
There are mixed opinions about whether Sotomayor will get a speedy confirmation and put her on the bench in time for the next session that begins in October. Some conservative Republicans have already expressed disappointment in the nomination, stressing that Sotomayor is a "judicial activist" and are preparing to pounce on previous remarks and decisions. When Alabama Sen. Jeff Sessions, a key member of the Senate Judiciary Committee, was asked if he was going to vote for or against Sotomayor, he said, "I'm not going to pre-judge how I'm going to vote." He said he first wants to hear how Sotomayor perceives the role of a judge. "Some think it is perfectly fine for a judge to be more activist, more aggressive, more policy setting, and I think not...I think one of the questions may be arising from the president's comments that he believes a judge should have empathy. Empathy could indicate that you pre-judge a case or are influenced by factors outside the case itself."
Many Republicans who oppose the nomination may be reluctant to be too aggressive since the party, which is in disarray, desperately needs Hispanic support in its rebuilding effort. Even so, they may show some resistance at this time as a gambit to challenge future appointments by Obama, and with the age and the health of Justices Ruth Bader Ginsburg and John Paul Stevens in question, he may soon have to make other nominations. Interestingly, if Sotomayor is confirmed, it will mean that two-thirds of the Supreme Court will have justices with Roman Catholic backgrounds, which is phenomenal given that only one-quarter of the country's population is Catholic.
Meanwhile, Obama has other more immediate concerns with North Korea having recently tested an under-ground nuclear weapon.