Terrence Williams, Nets' top pick, took the long route to the NBA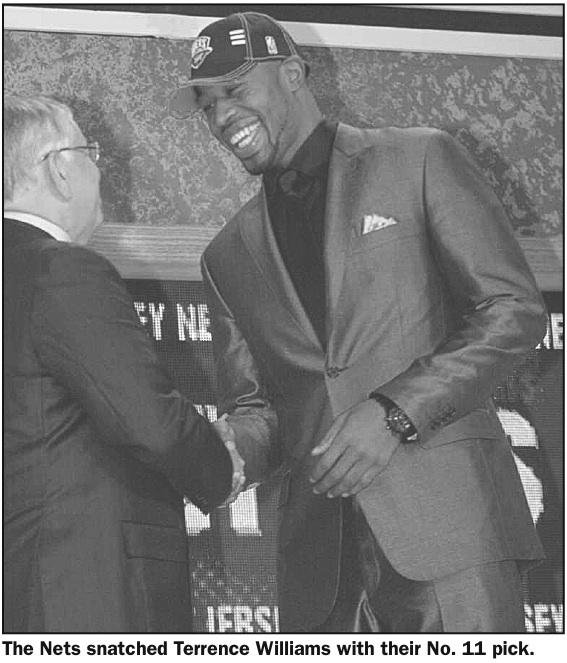 Staying in school four years can have its perks. Just ask Nets first-round selection Terrence Williams. Taken with the 11th pick, Williams, who was the first senior taken, is one of the reasons Vince Carter was traded. The 6'6", ultra-athletic combo guard out of Louisville didn't take the significance of being the first four-year player selected lightly.
"It says a lot," Williams said. "You stay in school four years, it does pay off for you."
Williams brings a lot to the table. He was one of the best athletes in the draft. He can defend three positions and can finish with authority. He also brings experience. And playing at Louisville under Rick Pitino for four years can't be a bad thing. With Carter gone, expect Williams to battle new acquisition Courtney Lee for minutes.
Williams scoffed at the notion that the draft was weak. "To go 11...some people call it a weak draft," he said. "I think it's a great draft.[There's] just not a lot of clear-cut picks in the draft like there was years before."
Williams couldn't have been more correct in his assessment. With few big names on the board, this draft was about as unpredictable as they come.
Oklahoma's Blake Griffin, considered to be the best player available, was taken first by the Clippers. But as talented as he is, there are some who think he might end up like former Knick Kenny "Sky" Walker. Outside of Griffin, few of the drafted players are expected to have an early impact.
There were several teams that helped themselves draft night. The Memphis Grizzlies did well, taking Hasheem Thabeet with the second pick. Thabeet gives them a big presence inside and is the perfect complement for O.J. Mayo and Rudy Gay. Stephen Curry will fit in perfectly with Golden State, much to the chagrin of Knicks' fans. Outside of Thabeet, Curry and Griffin, the NBA draft was filled with question marks. There were no LeBron James,Carmelo Anthony or Shaquille O'Neal-types.
But that may not be such a bad thing. What makes sports special is that you never know what will happen next. Who knows who the next NBA great will be?