The Giants roll to Arizona 9-1 and still hungry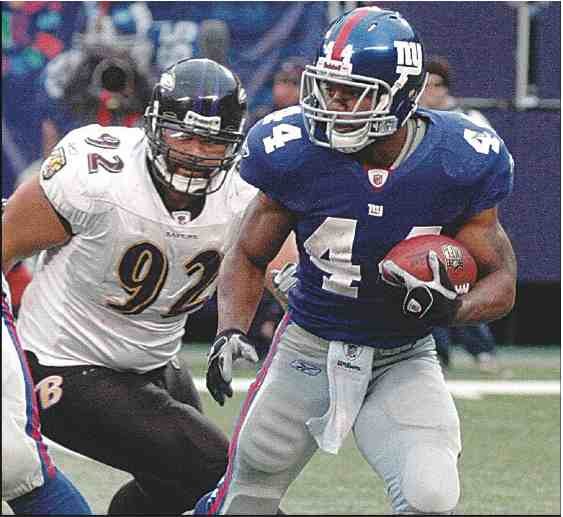 The Giants' mission to repeat as NFL champions continues Sunday in Arizona (4:15 p.m.) after their authoritative 30-10 win over the Baltimore Ravens at the Meadowlands.
They'll take on a Cardinals team that is in first place in the NFC West at 7-3 and determined to prove they are credible challengers to the Giants' conference supremacy. "We'll be ready," said Reuben Droughns, a smile spreading across his face. "We're still hungry," he yelled as the Giants filed into their locker room after the game. Running back Brandon Jacobs had a message that although directed at the Ravens, could have been a missive for all of the cynics that still doubt the Giants. "I bet they won't be talkin' [smack] no more," he shouted. "If they didn't know before, they know now."
Never removing the chips from their broad shoulders, the Giants have followed their improbable Super Bowl season with a vengeance and attitude that screams, "So, you don't think we're for real?" The Ravens certainly do! They came into New Jersey boasting the league's best rushing defense and were summarily gashed by the NFL's preeminent ground attack. The unparalleled trio of Jacobs, the starter, and his cohorts Derrick Ward and Ahmad Bradshaw, accumulated 210 combined rushing yards, resulting in the Giants bettering their National Football Conference leading record to 9-1 while dismissing another solid playoff contender. Only the 10-0 Tennessee Titans of the AFC can claim a more impressive mark. "I'm just excited to see all these guys get all the glory," said Droughns, who epitomizes the selfless and singular collective mindset of the franchise. The 30-year-old running back is in his second season with the Giants and ninth overall in the NFL. Once a featured back, he ran for 1,240 and 1,232 yards respectively in 2004 and 2005 as a member of the Denver Broncos, and just two seasons ago with the Cleveland Browns was still an effective ground gainer, totaling 758 yards. But Droughns has not had a single attempt in 2008.Nevertheless, the Anaheim, California native is more than happy in his role as a contributor to the specials teams unit and senior member of the backfield corps. "It's about winning. As long as we continue doing that nothing else matters...This is a great group of guys, and I'm just happy to be a part of their success."