THE KENNEDY QUESTION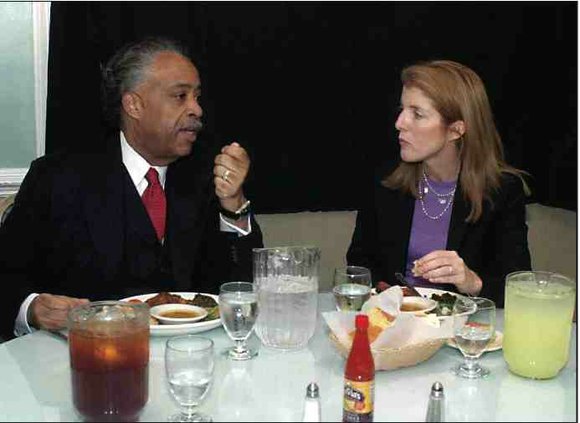 Queens Congressman Gary Ackerman (D) told a national television audience watching the CBS Sunday morning show "Face the Nation" that Caroline Kennedy has been Sarah Palan-ized, because her staff answers the questions from the press that have to be submitted in writing.
"DNA in this business can take you just so far," Ackerman said, laughing at his own statement.
New York print media outlets reported over the weekend that Kennedy's people responded to 15 questions with answers that were mostly "brief" and "some did not fully address the questions."
Gov. David Paterson, who has to make the appointment to fill the Senate seat of Sen. Hillary Clinton--provided she is the next U.S. Secretary of State-- told Albany reporters that Kennedy told him that "she'd like at some point to sit down and tell me what she thinks her qualifications are."
So, observers keep hacking away at the daughter of assassinated president John Kennedy, saying she is a non-practicing attorney with little familiarity of the legislative process who has never been tested in the world of electoral politics.
Former Democratic Party vice presidential nominee Geraldine Ferraro sent a letter to Paterson, according to press reports, asking him to appoint one of the six sitting females representing New York in the Congress. Referring to Kennedy, she said, this is not the time for on-the-job-training, because New York is facing a fiscal crisis.
The Associated Press reported on Dec. 19, that Kennedy hasn't voted in at least six major elections in the last 20 years, including the 1994 election for Clinton's Senate seat. Kerry Kennedy, a cousin, stated on the television talk show "Hardball" that she didn't know if her cousin was pro-choice.
"Her short tour of New York, visiting Harlem and Buffalo and talking to political leaders, but making no public statements and taking no media questions, has set exactly the wrong tone," stated a writer for Salon.com.
Another glimpse into the political goings and comings of Kennedy was reported in the New York Observerin a story claiming that her political debut happened in the Big Apple some 10 years ago, when she showed up at a "teach-in" against the impeachment of former president Bill Clinton. "Her speech was not memorable--nor did she display passion as she read it," stated the story. So, did Ackerman invoke the name of Sarah Palin as an insult?