The Ravens close down the Dolphins' surprising season
Howie Evans | 4/12/2011, 4:38 p.m.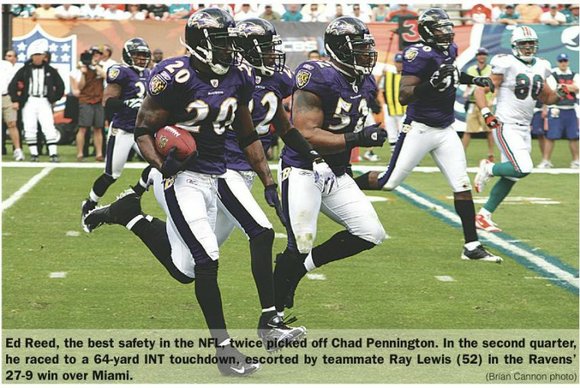 The end came early for the Miami Dolphins. A red-up, playoff record crowd of 74,240 was nally quieted in the fourth quarter when Joe Flacco, the Ravens' rookie quarterback from the University of Delaware, sprinted ve untouched yards into the end zone for Baltimore's nal score and a 27-9 lead with four minutes left to play.
Many of the Dolphins' fans missed that nal nail-in-the-cofn score as they had begun a massive exit after Willis McGahee burst through the rst wave of Dolphin defenders and hot-footed 48 yards before being dragged down four yards from the promised land. The Dolphins' offensive players sitting on the bench almost to a man bowed their heads in surrender. They knew the end had come to their remarkable season. Over decades of scooting into locker rooms after games, never had we seen such an exhausted and beaten-down group of players.
They had entered the game on a high, a 24-17 inspiring win over the Jets and redemption for Chad Pennington. They overcame two straight opening season losses and were 2-4 after a 27-13 loss to these same Ravens on October 19. Then they ripped off four straight wins to go 6-4. A 48-28 loss to New England followed. But rst-year head coach Tony Saparano refused to let them quit. They closed out the season with ve straight wins, including the win over the Jets that propelled them to the playoffs and another shot at the Ravens with their brilliant staff led by another rst-year head coach, John Harbaugh.
But the Ravens were too much for the Dolphins on both sides of the ball. The Dolphins' position coaches and offensive and defensive coordinators seemed helpless, never coming up with anything to help their charges stop the Ravens. The player of the game was Ed Reed, the 2004 NFL Defensive Player of the Year, who led the NFL in interceptions this season. All Reed did was close out the show very early when he intercepted Pennington in the second quarter and went 64 yards for a 10-3 Ravens lead. Reed got Pennington (four INTs), whose offensive line failed him miserably, again in the third quarter. "The Lord has given me the blessing to be here doing this," said Reed after slapping hands with his fans as he left the eld. Dolphin linebacker Joey Porter Joey Porter summed it up. "We picked the wrong time to play one of our worst games of the season."