The story of an American hero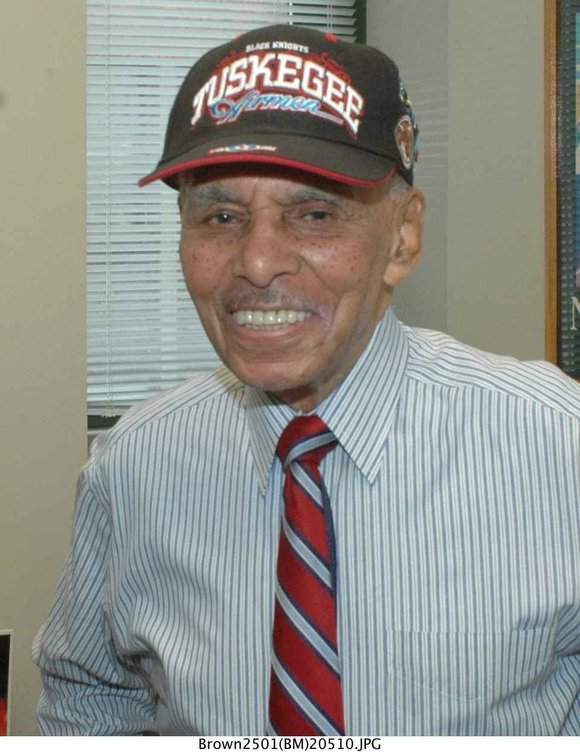 "When people ask me what the Tuskegee Airmen stand for, you have to go back to a society that was really Black and white," said Dr. Roscoe C. Brown, Jr.
A living legend in his own right, Brown is one of the few Tuskegee Airmen living today. At the age of 88, he currently serves as the director of the Center for Urban Education and a professor at City University of New York (CUNY) Graduate School. He is also past president of Bronx Community College.
During World War II, Brown served as a commander of the 100th Fighter Squadron of the 332nd Fighter Group. He graduated from Tuskegee Flight School in 1944 and was one of 15 pilots who shot down the advanced German Me-262 jet fighter.
Born in Washington, D.C., Brown grew up during segregation. He attended Paul Dunbar High School and graduated from Springfield College in Massachusetts. While growing up in Washington, D.C.'s Black middle class, he was taught that anything was possible, but one thing kept people from moving up.
"We were taught to do anything we could do anytime," he said. "Our only impediment was segregation. If you went to apply for a job at a white firm, they could look you in the eye and tell you, 'We don't hire Negroes.' You couldn't get mad because there were no laws."
Brown noted that with pressure from the NAACP and the Black press, President Franklin D. Roosevelt allowed Blacks to become generals in the military as well as fight in combat units. Even with a policy in place at the time that confirmed Blacks couldn't handle such high-ranking positions, a journey was paved to prove otherwise.
Brown was called to active duty at the age of 19 and upon finishing college, went on to try out for the Tuskegee Airman. He went to flight school and graduated valedictorian of his class, training on combat P-40 planes.
Up until that time, Black men flying in planes was unheard of. There was even so-called "scientific evidence" proving Black men couldn't handle such a task.
Brown said, "How do you get ahead when you have obstacles? You get ahead by having pride, knowing your culture, being prepared and not using excuses. When someone says you can't do something, and you have to prove that you can, you are under pressure."
Brown added that the reason the Tuskegee Airmen did so well was not only because of the leadership of their commander, General Benjamin O. Davis, but also because they are an example of how people can overcome segregation.
"We learned the best way to beat segregation was to be excellent," he said.
Since the heyday of the Tuskegee Airmen, Brown said that today's young people face a new war of the mentality that they cannot achieve greatness. He constantly advocates the need for young people to follow the example of his fellow soldiers.
"That's the story we are trying to get our young Black people to realize," he said. "A lot of these kids don't believe they can do anything and that the world is against them. They learn it from their community, and they learn it from their parents."
Since serving as an American hero, Brown has received a shower of honors, including the Congressional Gold Medal from former President George W. Bush in 2007. He's also received honors from the NAACP and the City of New York.
As an educator, Brown's career spans decades. He has held positions that include college president and university professor at institutions such as CUNY, New York University and West Virginia State College.
In the community, he has served on more than 25 boards on the city, state and national level, including the Boys and Girls Club of America, the Fund for the City of New York and the New York State Attorney General's Ethical Standards Committee.