Thompson: 'I will be mayor'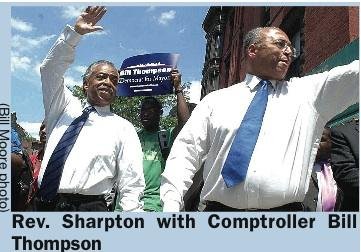 "I endorsed Bill Thompson because the city is in a crisis and needs a better manager," Rev. Al Sharpton told the AmNews. "City Hall needs leadership by someone who understands regular New Yorkers to keep the city's social fabric from coming apart"
It could not have been a brighter, more copasetic day when City Comptroller Bill Thompson received the endorsement of Sharpton in sunny Brooklyn this past Saturday.
Shirtsleeves rolled up, baby hugging and pressing the flesh of excited block partygoers outside Bed-Stuy's Bethany Baptist Church, the Bed-Stuy lad and the Brownsville fella met the masses. "I am very pleased to have the support of Rev. Al Sharpton," Thompson told the Amsterdam News. "I think he is one of the leading civil rights leaders in the nation, and so to have his support and his assistance is major.
"We're two guys from Brooklyn--one from Brownsville, one from Bed-Stuy," Thompson said proudly. "When I am campaigning alone, the response is good. When I campaign with Rev. Sharpton, the response is overwhelming. Everybody is excited and wants to take pictures and shake hands. The people are very engaged and every TV station covered the endorsement."
"It's not about just getting Blacks into office--it's about getting the right Blacks into office. Bill Thompson has shown a connectivity and a history and a compassion for New Yorkers, who up 'til now, have had little or no voice on a citywide basis" said Harlem-based filmmaker Eddie Harris. "Bill Thompson should be afforded the opportunity to put this into action as he runs for mayor," agreed actor and producer Doug. E. Doug.
Next Thursday, the two men will premier the likely-to-be controversial "Slap the Donkey," a no-holds-barred critique of the relationship of the Democratic Party, Black leadership and the Black community.
"'Slap the Donkey' is a term Rev. Sharpton used during his 2003 campaign to express his concern that the Democratic Party was not taking their most loyal constituents seriously," said Harris. "The movie was shot over a three-year period as Sharpton pursued the Democratic nomination. The film is basically an expose and a critique of the Democratic Party. As we go into this next political season, it is vital that we take stock of where we are as a people. We have to be educated voters. Some members of the Black leadership are going to feel uncomfortable when they see this, but it is a necessary look at the state of the Black body politic. It speaks to the whole issue of Black politics. Again as we're set to vote for a new mayor and numerous persons for public office. we have to be clear about the whole picture."
"The material Eddie shot was compelling, and I recognized the potential for the movie to raise critical questions of the role of the community and its relationship to Black leadership, and how they should be addressing the greater issues," said Doug. "I wanted it to be a complete narrative because there were a lot of things being emphasized." Doug noted, "It's not a flattering piece, but it is very fair and clear as to where we are as a community and our leadership. It exposes the lack of power of the Congressional Black Caucus and how Black officials know how to come to our community for our support and give their support to candidates who are running for higher office who have never supported the needs of our community."