Thousands Rally to Renew Mayoral Control in Two-Day,Five-Borough Bus Tour
4/12/2011, 4:35 p.m.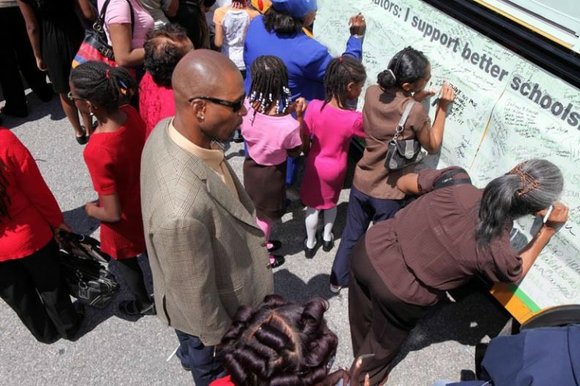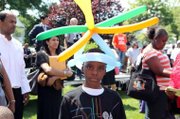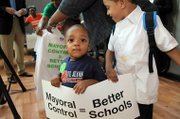 Bus Tour Makes Eight Stops, Over 5,000 New Yorkers Attend to Support Mayoral Control
Parents, Teachers, Kids and Community Leaders Sign Pledge Asking Legislators to Renew the Law and Keep Our Children and Schools Moving in the Right Direction
New York, NY - More than 5,000 New Yorkers joined Learn NY's grassroots coalition over two days and eight stops across New York City's five boroughs to highlight the overwhelming public support for mayoral control. With the deadline for renewing the mayoral control law just weeks away, thousands of people showed their support for Mayoral Control by signing a giant petition affixed to a yellow school bus thanking the State Legislature for enacting mayoral control in 2002 and calling on them to renew the law this June. Attendees at tour events also sent postcards to their legislators asking them to renew mayoral control - approximately 2,000 letters were sent in total.
The five-borough tour made stops in Stapleton, Staten Island; Jamaica, Queens; Co-Op City, Bronx; Flushing Queens; Canarsie, Brooklyn; East New York, Brooklyn; Washington Heights, Manhattan; and Harlem, Manhattan.
_______________
Sunday Events:
The bus tour began early Sunday morning in Staten Island at First Central Baptist Church where Reverend Demetrius Carolina led parents, students, and community leaders in thanking the State Legislature for enacting mayoral control in 2002 and in calling on them to renew the law this June.
"For decades, the Mayor didn't have the power to fix the schools because he didn't have the authority over the Department of Education. The DOE couldn't fix anything because they shared power with 32 local school boards. Every decision was mired in bureaucracy and red tape," said Pastor Demetrius S. Carolina. "I served on one of the 32 neighborhood school boards and saw first-hand how decentralized the system was and how difficult it was to get things done. While many people had authority, very few people were in a position to effect real change or could be held accountable for productive meaningful change."
"Today, change is no longer impossible. Under the Mayor's leadership, school graduation rates are up, crime is down, and our children are performing at higher levels in reading and math. We have made real progress and we cannot afford to go back," continued Pastor Carolina.
The tour then continued on to Jamaica, Queens, where the Reverend Dr. Floyd H. Flake led nearly 3,000 parents, students, educators and community leaders in a large celebration at the Greater Allen A.M.E. Cathedral. While enjoying performances by student dance troupes and Calypso legend Mighty Sparrow, families showed their support by signing the pledge card affixed to the Learn NY bus.
"It is absolutely essential that New York City continues to have mayoral control," said Rev. Flake. "Since 2002, our schools have been moving forward in a progressive manner. The historical failures cannot rise again. We need to make certain that every child in our city has an opportunity to receive the best education. Mayoral control is our chance to keep the progress going."