Thousands Rally to Renew Mayoral Control in Two-Day,Five-Borough Bus Tour
4/12/2011, 4:35 p.m.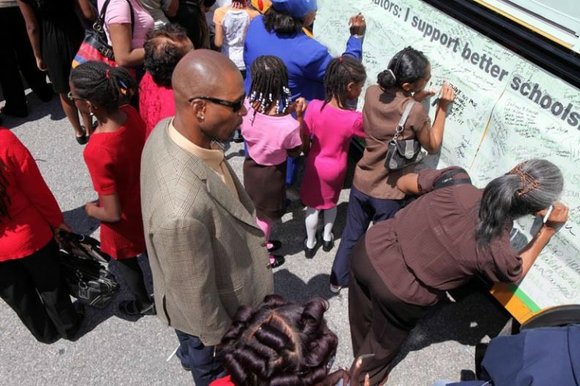 "Our students at every level are moving forward under mayoral control. We need to continue mayoral control as it is because it results in accountability. We don't need to go back to the old system of pointing fingers when children fail," said Assemblywoman Barbara Clark.
"I can see my child's school improving as a result of mayoral control. Schools are safer and better funded," said Donna Santana, public school parent and member of the Greater Allen A.M.E. congregation, who spoke at the Jamaica event. "Teachers are better paid and more qualified. And thanks to fair funding across districts - based on need rather than politics - all students now have access to a high-quality education."
On Sunday, the bus also made stops in Co-Op City, Bronx and Flushing, Queens. Bishops Angel and Nancy Rosario spoke to parents and community leaders outside the Church of God's Children in Co-op City and parents joined Learn NY in signing the bus in Flushing.
"We must keep mayoral control," said Archbishop Angel Rosario, Church of God's Children. "We've seen too much progress in our schools to start going back to the old ways."
"I've been in the system for 40 years," said Ann Purnell, a parent whose son attends Bronx Aerospace High School. "My oldest daughter is 40 and my youngest child is ten. Mayoral Control has made a significant advancement in the way students learn, teachers teach and in better preparing our children to go on to college. We can't go back to the old days of no accountability."
_______________
Monday Events:
On Monday, the 5-borough tour resumed with two events in Brooklyn - outside P.S. 272 in Canarsie and at the offices of Groundwork Inc., a Learn NY coalition partner - where parents, teachers and kids gathered to sign the bus and urge legislators to renew the law.
"Mayoral control has become synonymous for me with empowerment and greater student achievement, said Dakota Keyes, Principal of P.S. 272. " And it is the system-wide accountability that makes it possible for school administrators to be true instructional leaders."
"As a parent, I have seen schools get significantly better since Mayoral Control," said Iris McDaniel, a parent from Urban Action Academy in Brooklyn. "It's very important that the State legislature renew the law this June so we can keep the progress going. We need to continue making progress."
Monday afternoon, the Learn NY bus - now full of thousands of signatures - then travelled to Washington Heights where parents and educators from the Community Association of Progressive Dominicans (ACDP) came together to thank the State Legislature for enacting the mayoral control law seven years ago.
"In the old days, it seemed like at the highest levels of city government, no one was watching our schools. And while the mayor wasn't watching, the schools were failing, especially in under- resourced areas," said SoledadHiciano, Executive Director of ACDP. "Since mayoral control, I have been cautiously optimistic about the overall direction of the school system. In 2002, state lawmakers took a courageous step by enacting mayoral control. This June, they need to again pass the law, with the core of accountability intact."