Tone up! Mel B gets you 'Totally Fit'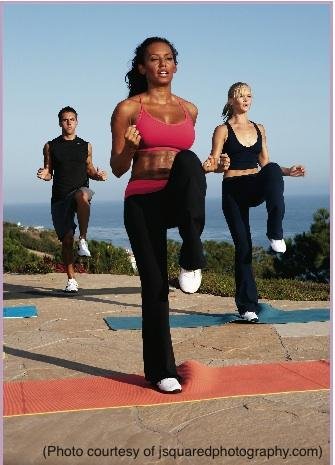 And a one, and a two! Mel B's "Totally Fit" DVD gets you up on your feet for a real fitness workout right in your own home! As a Spice Girl, Melanie Brown was known to the world as Scary Spice. Today, the former Spice Girl is best know as Mel B--solo artist, lingerie model and mother of two. This season, she adds workout diva to her list of accomplishments with "Totally Fit" from Rhino Entertainment. The DVD is available at retail outlets nationwide.
It's not your average workout DVD; Mel's approach is full, inspirational and motivational. Born in Leeds, England, Mel B now resides in Los Angeles with her husband and two children. In 2002, after almost 10 years with the Spice Girls, Mel B and her band mates took time off from the group, during which Mel B penned her best-selling autobiography, "Catch A Fire." After moving to the states, she became a contestant on the American TV smash hit "Dancing with the Stars" and then left the show to rejoin the Spice Girls reunion tour. This tour set a record by selling out all the dates in less than one minute, grossing over $70 million, and was named by Forbes magazine as one of the most successful tours of the 2007-'08 season.
Following the conclusion of the Spice Girls reunion tour, Mel was invited to host the Miss Universe Pageant's 2008 ceremony in Vietnam. She also works as a reporter for the highly rated entertainment news program "Access Hollywood" and as a special correspondent for "Dancing with the Stars" and other TV special assignments.
In Mel B's "Totally Fit "DVD, she presents the secrets to her success to anyone who wants to change both their lives and bodies. There are several kinds of lifestyles and fitness levels. "For anyone who wants to get their body ready for summer, I'm going to tighten you up, make you laugh and enjoy your workout, no matter what your level of fitness is," said Mel B.
"Totally Fit" breaks down Mel's straightforward approach to staying in shape into a 28-day plan. Her program features a 60-minute fitness class that's split into two 30-minute sessions. The first session is an aerobic workout set to pumping dance tracks that is the ideal route to burning fat, driving up your heart rate and promoting overall fitness. The second session includes an up-tempo resistance workout, using everyday objects to help tone and trim the body. These are the workouts that Mel still does each week.
She also includes four 10-minute workouts that focus on the areas all women struggle with--backsides, tummies, legs and arms, as well as a "chill out" stretch session that's designed to help women relax after a stressful day or a well-deserved, post- workout reward. As a bonus, the disc also provides lifestyle advice and nutritional tips, including Mel's own secret recipes and snacks. Mel offers great hints for getting faster and longer-lasting results that are not just for the month, but forever. Go for it!