Vote Nov 2: Our future depends on it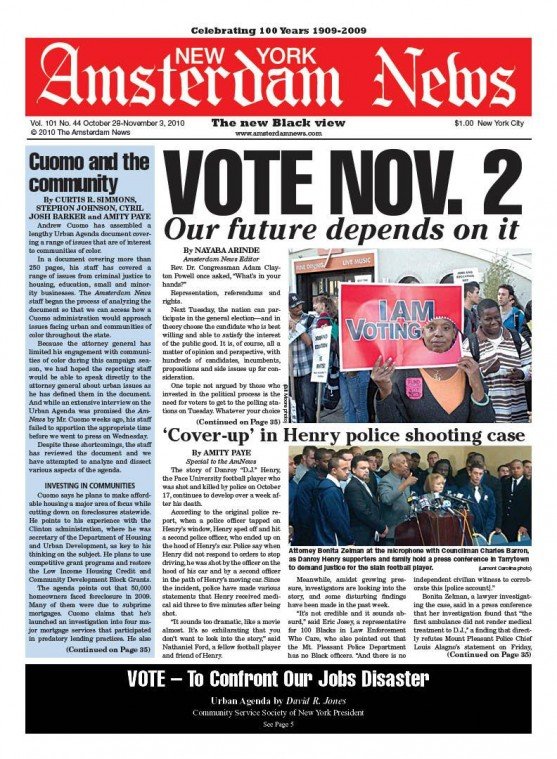 Rev. Dr. Congressman Adam Clayton Powell once asked, "What's in your hands?
Representation, referendums and rights.
Next Tuesday the nation can participate in the general election--and in theory choose the candidate who is best willing and able to satisfy the interest of the public good. It is, of course, all a matter of opinion and perspective, with hundreds of candidates, incumbents, propositions and side issues up for consideration.
One topic not argued by those who invested in the political process is the need for voters to get to the polling stations on Tuesday. Whatever your choice may be: mark it, scan it--vote.
Gubernatorial candidates Charles Barron, Andrew Cuomo and Carl Paladino have a few fast-paced days ahead, as do congressional and state legislative candidates.
"The upcoming midterm elections will determine the course of our nation just as much as the 2008 elections did. We need to elect lawmakers who will devote resources to families in need. We need to dedicate time and energy to supporting candidates who will address the graduation rate gap and failing schools in our communities. And we need to encourage others to pull the lever as well," said NAACP President and CEO Benjamin Todd Jealous.
According to some pundits, Andrew Cuomo is expected to win big in the Governor's race, but there is some concern about whether the Democratic nominee will be committed to either an urban agenda--which recognizes the needs of Black and Brown people in communities throughout the state--or the labor coalition that has reliably supported Democratic candidates with both funding and manpower. For weeks the ITALAmsterdam NewsITAL called on Cuomo to release his urban agenda, and he did so with only days to go before the election, and without an on-the-record discussion of his proposals as the paper requested.
Because of his wishy washy campaign stand on urban issues, some Black and Brown voters are looking for an alternative to Cuomo, and while for some Paladino may not have proven to be a totally unacceptable alternative to the attorney general, for many Charles Barron and the Freedom Party is a viable choice.
Appearing at the United African Movement weekly meeting in Brooklyn last week, human rights activist Dick Gregory endorsed Barron, saying that the Freedom Party offers New Yorkers a significant opportunity to change the way politics are conducted in the state, especially as relates to the underserved communities. "If we continue the practice of voting for the lesser of two evils," he said "eventually you will get the evilest of the two evils." New Yorkers have a chance to upend politics as we know it in the state and send a powerful message to the two established parties. Folk used to promising to deliver the Black vote will have to rethink their thoughts and playbook.
Gregory noted that the Freedom Party represents everybody, and the masses should exercise their power and vote their interest. "I wholeheartedly endorse Charles Barron and urge everyone to vote for Charles Barron, because he really is the best candidate," he said.