Vote Nov 2: Our future depends on it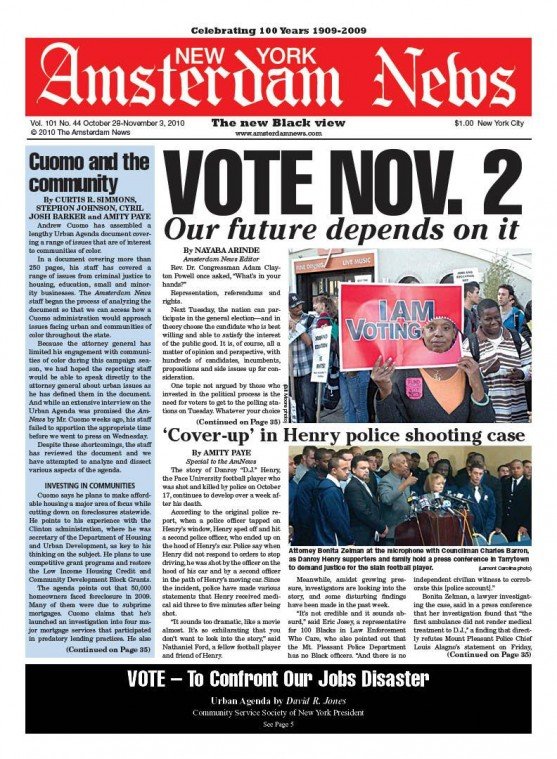 In order to become an established party, the Freedom Party must get at least 50,000 votes on Tuesday. Author and activist Nana Camille Yarborough, also a Barron backer, emphasized the need for folks to get out and vote. She said, "if you respect yourself and the terrible dues our people have had pay to come as far as we have come in this country, there should be no question. It is our right and duty to do so."
Mani Gilyard, Chairman of the Malcolm X Commemoration Committee, urged voters to come out on Tuesday and vote their power, saying "We, African-Americans and Latinos, have religiously given our votes to the Democratic Party decade after decade, and have not received even a token representation for our loyalty." Decrying the "politricks" potential of the ballot, Gilyard warned that voters must be vigilant at the polling station. "There are multiple ballots in circulation and the Freedom Party may be on Line G, Line H, etc. Some voters may vote for the Liberterian (Liberty) Party thinking they are voting for the Freedom Party on the same line right next to each other." On the state legislative level, the Assembly is expected to remain under the control of the diverse Democratic caucus. Some have criticized the iron grip that Sheldon Silver has on the caucus, and real opposition to his power has resulted in diminished influence by individual legislatures.
The State Senate majority is somewhat shaky. The Democrats have a slim two-seat advantage, but party leaders including John Sampson and Malcolm Smith have said they believe they can not only hold, but expand their numbers in the upper house. The State Senate was under the control of the Republicans for more than 40 years, and the all-white Republican caucus was infamous for doing little for communities of color during their long reign.
In private conversations, some Democrat insiders have questioned Cuomo's commitment to keeping control of the State Senate, but with David Paterson leaving the executive mansion, the State Senate is the strongest voice for Black and Brown communities in state government.
Charlie Rangel is expected to remain the Dean of the New York Congressional delegation, and the Democrats are hoping for minimal losses in the delegation. The New York delegation currently has only two Republican members, Conservative Long Island Representative Peter King and businessman Christopher Lee, and the party is hoping that a strong Democratic showing in the Empire State will offset some expected losses in the South and Midwest.
Assistant Deputy Majority Leader Inez E. Dickens is urging everyone to come out and vote. The Council member declared, "These mid-term elections are critical to not only Black America but to all Americans who believe in liberty and justice for all. We are faced with a radical fanaticism that threatens to erase basic human and civil liberties."
Our Congressman Charlie B. Rangel has been a victim of vicious attacks by these fanatics. I am asking you to vote to re-elect Congressman Charles Rangel and the democratic ticket to help our president, to elect Andrew Cuomo governor, so that they can continue to lead the fight for economic recovery for our city, our state and our nation."