VOTE YOUR POWER'Eight is enough!!'
Herb Boyd | 4/12/2011, 4:35 p.m.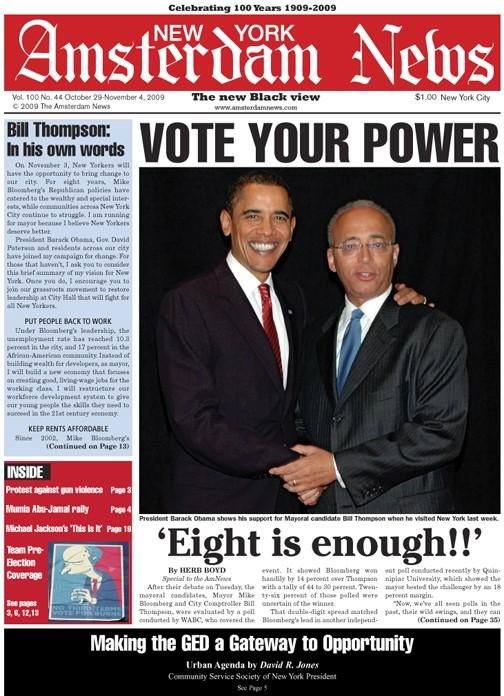 After their debate on Tuesday, the mayoral candidates, Mayor Mike Bloomberg and City Comptroller Bill Thompson, were evaluated by a poll conducted by WABC, who covered the event. It showed Bloomberg won handily by 14 percent over Thompson with a tally of 44 to 30 percent. Twenty-six percent of those polled were uncertain of the winner.
That double-digit spread matched Bloomberg's lead in another independent poll conducted recently by Quinnipiac University, which showed the mayor bested the challenger by an 18 percent margin.
"Now, we've all seen polls in the past, their wild swings, and they can be incredibly inaccurate," Thompson told the AmNews a day after the debate. "None of this bothers me because I've had an excellent reaction from people on the street. They are excited and appear to be optimistic, so the polls don't bother me at all."
Thompson's conclusions about the "wild swings of polls" is borne out by Mark Green's bid for mayor in 2001, when he led by double-digits only to lose by three points to Bloomberg, who spent $73 million for his first victory.
"And when it doesn't come out as predicted by the pollsters, they have to scramble to explain what went wrong," Thompson added.
When asked if there was anything he wanted to say during the debate and didn't, Thompson was effusive: "I wish I had more time to talk about jobs and job creation, and the need for more affordable housing, but it was going back and forth too much and I would have preferred there had been more of discussion on these issues.
"Affordable housing, education for all our children, particularly a change in curriculum, these are issues that face our neighborhoods each and every day, and I wish I had more time to really discuss," Thompson continued.
Closing the budget gap was another item Thompson believed could have been given more serious discussion. "I put some proposals forward and the mayor hasn't put any of them forward," he said. "We are all worried about this gap and that's why I felt it was an issue that deserved more time."
Last week, President Obama endorsed Thompson, though without mentioning his name, and this fact was not mentioned during the debate. "By election day, next Tuesday, everyone will know that the president endorsed me," Thompson chuckled. "No, I didn't get a chance to mention it last night, but you have to find the right time and place to bring this out. Between now and next week, everybody will know he has endorsed me."
Similarly, Thompson was asked about the late-hour endorsement from City Council Speaker Christine Quinn. "There are endorsements that will be coming out in the next few days, and they should help to build momentum, so it's just not one endorsement but constant endorsements that provide the momentum," he explained.
If there is any consistent message from him and his campaign, it's to make sure people turnout for the vote on Tuesday, Thompson repeated. "What voters should understand is that they have a real choice in this election. They can go down the same path they've been on for the last eight years that has led to a 15-year higher unemployment, that's led to more than a million middle-class New Yorkers fleeing the city, that's led to a countless number of homeless families--these are some of things I want voters to understand. They need to know they have some options."