VOTE YOUR POWER'Eight is enough!!'
Herb Boyd | 4/12/2011, 4:35 p.m.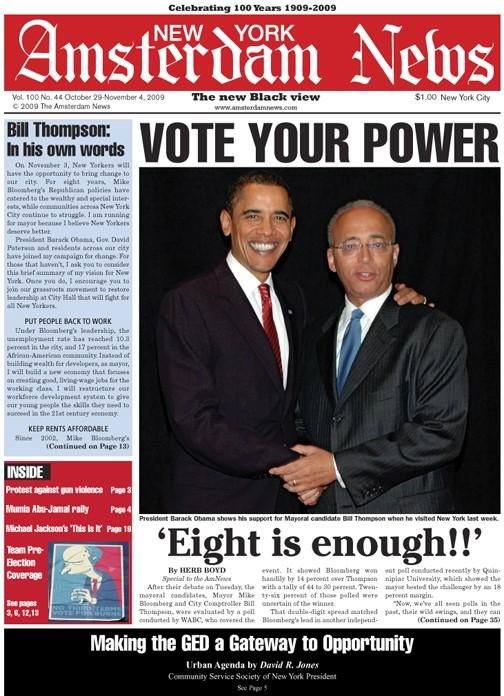 There are reports that a low turnout on Tuesday will favor Thompson. "You just don't know," he responded. "I don't know if a low turnout favors or scares me."
According to a few pundits who watched and later evaluated the debate, both candidates were wrong and right about certain issues. One commentator observed that Thompson was not exactly accurate in his remark about the flight of the middle class from the city and failed to compare that to the influx of immigrants.
"Sure, there are a number of people who have moved into New York City," Thompson began, "but what the recent report that came out is pointing to is that the people who are coming in are making less money...and with their lower salaries that can't afford to pay the high rents. What we've seen under the Bloomberg administration is that the jobs at the top might have been great and the jobs at the bottom might have been great, but the jobs in the middle have been declining, and that's why I worry about where the city is going. This also lowers the tax base."
How about the fact that Rudy Giuliani is solidly on board the Bloomberg bandwagon? "It's not just that Giuliani is on the Bloomberg bandwagon," Thompson replied, "it's the comment that he made." Giuliani, speaking in Brooklyn last week to a group of Orthodox Jews, said he was concerned that the city might be returning to 1993 with the election of Thompson without mentioning his name.
Both Giuliani and Bloomberg are playing the "politics of division and the politics of fear," Thompson said. "For me, this was offensive to all New Yorkers."
Thompson expanded on the notion of returning to those days before 1993 and more explicitly to the tenure of David Dinkins, noting that the city's first Black mayor made a number of contributions. "Even so, Giuliani was not trying to bring back positive memories. He was trying to bring back negative ones," Thompson said.
The mayoral challenger said he was surprised to learn that Bloomberg, through his accountant, had contributed $26,000 to Cory Booker, Newark's mayor, which many opponents view as paying for Booker's endorsement. "I'm not sure what to make of it," Thompson said.
But he certainly knew what to make of Bloomberg's statement during the debate asserting that Thompson give back campaign donations from investment managers who do business with the city. "Why don't you give back the money?" the mayor said. "It looks terrible, even if it's not, and most people would think it is."
"It's amazing that a guy who has spent an obscene amount of money, who, as the Times reported, is spending a million dollars a day or $40,000 an hour, trying to buy the votes of the people of New York City is ridiculous, and he knows it is," Thompson asserted. "Yes, he got his line, but it doesn't mean anything."
What appears to mean something very real for Thompson is that "eight is enough," that Bloomberg changed the rules to make it possible for him to seek a third term. Thompson also took umbrage at Bloomberg's ongoing talk about his police commissioner, Ray Kelly, who Thompson said he would replace if he wins the election.