Vulcan Society, Black firefighters suit wins ruling against city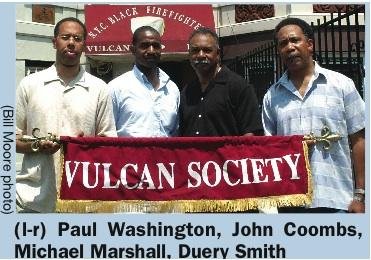 The Vulcan Society, a fraternal organization of Black firefighters, has successfully won a leg in the fight for fair hearing practices within the fire department. The Vulcan Society was created in 1940 to support Black firefighters and eliminate discrimination in the fire department. Even now, they still strive for equality.
Due to a complaint filed by the Vulcan Society, the Fire Department of New York was charged last Thursday of racially discriminatory hiring practices. The Vulcan's victory against the FDNY came on the heels of discriminatory testing and recruitment practices that "unfairly excluded hundreds of qualified people of color from the opportunity to serve as New York City firefighters," United States District Judge Nicholas G. Garaufis ruled July 22.
"Today, the court holds that New York City's reliance on these examinations, [issued between 1999 and 2007]," said the judge, "constitutes employment discrimination in violation of title VII of the Civil Rights Act of 1964."
"Out of 10 million New Yorkers, the New York City fire department, exam after exam, has consistently been unable to produce a more diversified department," said John Coombs, a Brooklyn firefighter and president of the Vulcan Society. Coombs quoted stats showing that New York City consists of 27 percent African-Americans--however, only three percent of the city's firefighters are African-American, which is 369 African Americans. The city consists of 60 percent diversified backgrounds. Rhetorically, Coombs asked, "How is it that the FDNY firefighter ranks are lacking in diversity?"
The FDNY has continuously challenged the Vulcan's premise that the test would require skills not needed to test a firefighter's ability, and had a negative impact on Black and Hispanic candidates repeatedly, Coombs said. Finally, on July 22, Judge Garafius ruled in favor of the Vulcan Society, the plaintiffs in the class action suit. "I'm happy with the decision," said Paul Washington, past president of the Vulcan Society. "The case was so much in our favor that we didn't even need to go to trial." "The court found that the city closed the door on over a thousand qualified candidates of color," said Center for Constitutional Rights (CCR) attorney Darius Charney. "This is a tremendous victory that we've been fighting towards for over seven years and we applaud the court for recognizing that the FDNY written examination has no bearing in whether or not a firefighter is qualified."
"This did not appear out of thin air," said Washington. At a July 23 press conference, in front of City Hall, Washington told the Amsterdam News that discriminatory testing and recruitment practices were "one of the biggest issues" that he had to deal with 10 years ago.
"The fire department has practiced discrimination for a long time. It's a little more subtle now." Washington said the fire department has a history of exclusion and using exams that do not measure the skills necessary to be a firefighter because firefighters have to communicate with each other while trying to save lives in a burning building, and not read, write or answer multiple-choice questions that reflect a college entrance exam or an SAT test. Duery Smith, past second vice president of the Vulcan Society, who retired from ladder 136 in Queens, told the Amsterdam News that the NYC school system is one of the worst, and yet people of color are asked to compete on the SAT test with students from Long Island in all the counties where their education is of higher quality.