W.E.B. DuBois like you never knew him in NFT production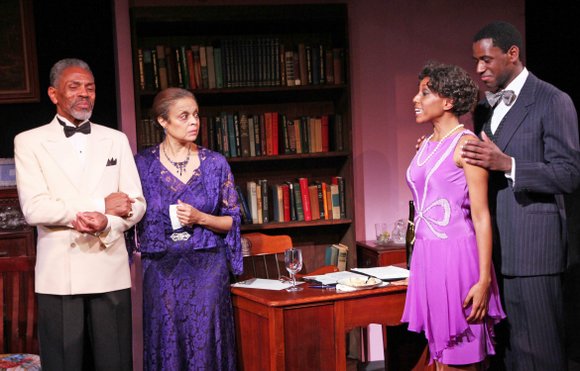 Get to know another side of W.E.B. DuBois. Most of us know him as a scholar, writer, intellectual and civil rights activist, but you'll be shocked to learn about how he was on a personal level with his family. You will get a very up-close and personal look at his life from the very revealing play "Knock Me A Kiss," written by Charles Smith. In this production--playing at Henry Street Settlement's Abrons Arts Center/Recital Hall--the audience gets to see that DuBois, while having a public side that everyone admired, also had a personal side that was unbelievably insensitive, calculating and controlling.
The production is full of facts, but in the telling it's also full of laughs and some moments that you simply won't want to believe. One of the big victims of DuBois' controlling nature and insensitivity was his wife, Nina. He demeaned her and treated her as if she didn't matter at all. His other victim is his only daughter, Yolande. Yolande was so concerned with having her father's blessing on whom she married, that she didn't realize he was only interested in getting her together with a well-bred man. He matched her up with a young man who is someone he admire, someone involved in the civil rights struggle--the poet County Cullem.
There's a moment in the play when Nina tries to warn Yolande that her father has picked this young man for her and that this young man has been trained by her father and is, therefore, someone to stay away from, but Yolande doesn't listen to her mother. Her father has made it very clear that Nina should not be listened to, and to the same degree that he doesn't respect his wife, Yolande does not respect her mother. Yolande is obsessed with wanting to please her father, but she is very misguided.
I'm so glad for the father that I had. he was a loving, sensitive man who wanted the best for me. DuBois was a father who only lived to further the cause. His daughter's wedding, for him, was a public event. Her marriage was something that was to be huge and, in his mind, it could even influence the struggle against racism in this country.
Yolande was in love with jazz band leader Jimmy, but of course, her father didn't find him good enough for his daughter. DuBois worked with Counee and trained him on how to court his daughter and told him you don't choose a wife because of love. You choose her for her attributes. He admited that that's how he chose his wife. When it comes to marriage, DuBois was a real-life precursor to Tina Turner's song "What's Love Got to Do with It?"
This storyline is so revealing that you walk out feeling like you've seen a secret part of this family's life. You feel like you have seen the scandal unfold and know all the dirty little secrets. (Other secrets are also revealed, but I won't say any more.)