YEAR IN REVIEW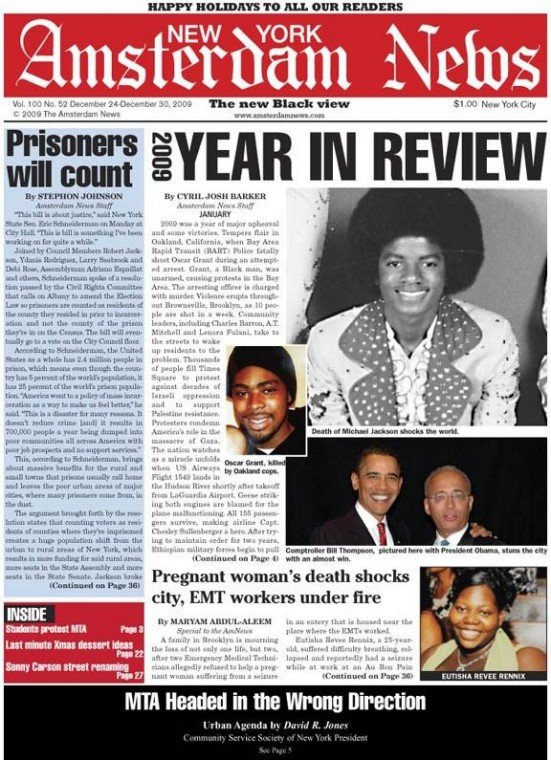 January
Tempers flair in Oakland, California, when Bay Area Rapid Transit (BART) Police fatally shoot Oscar Grant during an attempted arrest. Grant, a Black man, was unarmed, causing protests in the Bay Area. The arresting officer is charged with murder. Violence erupts throughout Brownsville, Brooklyn, as 10 people are shot in a week. Community leaders, including Charles Barron, A.T. Mitchell and Lenora Fulani, take to the streets to wake up residents to the problem. Thousands of people fill Times Square to protest against decades of Israeli oppression and to support Palestine resistance. Protesters condemn America's role in the massacre of Gaza. The nation watches as a miracle unfolds when US Airways Flight 1549 lands in the Hudson River shortly after takeoff from LaGuardia Airport. Geese striking both engines are blamed for the plane malfunctioning. All 155 passengers survive, making airline Capt. Chesley Sullenberger a hero. After trying to maintain order for two years, Ethiopian military forces begin to pull out of Somalia. Governor David Paterson delivers his State of the State Address, calling New York's economic standing "terrible." The governor also announces reforms to the Rockefeller Drug Law.
Dr. Suzan "Sujay" Johnson Cook begins holding "Harlem Hallelujah" at the Apollo Theater. The weekly church service draws thousands to the famed theater on Sundays throughout the spring. Roland Burris is appointed to fill Illinois' vacant seat in the U.S. Senate left by Barack Obama. The decision comes with controversy because disgraced Governor Rod Blagojevich, who is later impeached, appoints him. The nation pauses for a moment to witness history as Barack Obama is inaugurated as the 44th--and first Black--president of the United States.
Spectators across the city gather at various venues, including some outdoors, to witness the event on television. During the same month, Obama signs an order to close Guantanamo Bay detention camp in Cuba. The New York Amsterdam News heeds to the call of the people once again by selling record numbers of its inauguration edition newspaper. The highly sought-after edition contains a poster of both Martin Luther King, Jr. and Obama.
The Center for Constitutional Rights releases a report indicating that the NYPD disproportionately stops and frisks Blacks and Latinos for crimes they did not commit and were not charged for. The U.S. Court of Appeals hears oral argument in the case of Viola Plummer v. City Council Speaker Christine Quinn. Plummer, who served as City Council member Barron's chief of staff, claims Quinn illegally fired her from her job. Motown Records celebrates 50 years. Lafayette French Pastry shop in Greenwich Village comes under fire when the owner, Ted Kafalinos, adds "Drunken Negro Heads" cookies to his menu. The culinary creation that features embellished African features and red eyes sparks rallies in front of the business. Basketball pioneer John Isaacs passes at age 93. Governor Paterson appoints Kristen Gillibrand to U.S. Senate for New York, replacing Hillary Clinton, who assumed the office of Secretary of State for the Obama administration.
February
Black History Month is celebrated with the national theme "The Quest for Black Citizenship in the Americas." Rikers Island inmate Christopher Robinson, 18, is beaten to death by fellow inmates for refusing to join a fight club. Three correctional officers are indicted on assault and conspiracy charges. As city elections get underway, an appeal is filed in the U.S. Court of Appeals challenging Mayor Michael Bloomberg's action to give himself and City Council members a chance to seek a third term. City Comptroller and Democratic mayoral candidate Bill Thompson leads the appeal. The Apollo Theater celebrates its 75th anniversary. The Pittsburgh Steelers beat the Arizona Cardinals, 27 to 23, in Super Bowl XLIII. Continental Airlines Flight 3407 crashes in Clarence Center, N.Y., killing all 49 passengers on board and one person on the ground. In his first month in office, Obama makes his first international trip as president, visiting Canada; announces the deployment of 17,000 troops to Afghanistan; and outlines to Congress his plan to reform education, energy and health care. Eric Holder, Jr. is sworn in as the first Black U.S. attorney general. The Republican Party elects Michael Steel to head the GOP. He is the first Black person to assume the job. The MTA announces budget cuts that would eliminate over 20 bus routes, two subway lines and raises fares. Mayor Bloomberg announces cuts to the Department of Education when he presents the city's 2010 preliminary budget and four-year financial plan.