YEAR IN REVIEW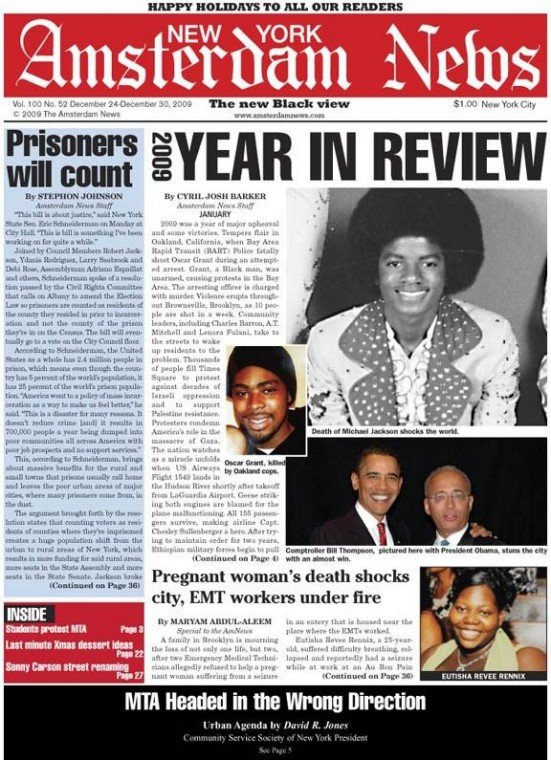 Straphangers breathe a sigh of relief when the state legislature announces it will bail out the MTA from having to make massive cuts to bus routes and subway lines and raise fares. Black New Yorkers lend a helping hand for 6-year-old Jasmina Anema, who suffers from a rare form of leukemia. With Jasmina in need of a bone marrow transplant from an African-American donor, hundreds of people line up at bone marrow drives across the city. Annie Brown who created the role of Bess in the George Gershwin opera "Porgy and Bess" dies at age 97. Historian John Hope Franklin dies at age 94. He's best known for his book "From Slavery to Freedom," which sold three million copies. President Obama announces a financial rescue plan that would remove bad assets from the nation's banks. Activist and health leader Dr. Lorna Scott McBarnette dies at age 69. Albany lawmakers agree to reform the Rockefeller Drug Law. Mandatory sentences for drug possession are repealed, and programs are created that focus on treatment and rehab.
April
Former AmNews engraver Langley P. Waller celebrates his 100th birthday. Waller is credited with unionizing the newspaper and choosing the paper's current building. The National Action Network holds its 11th annual national convention in New York at the Sheraton Hotel and Towers. Thousands of members of the organization, led by the Rev. Al Sharpton, come from across the nation to attend. Vice President Joe Biden is a keynote speaker. Arva Rice is appointed president and CEO of the New York Urban League. The New York State Assembly passes legislation to rename the King State Office building in Brooklyn after Congresswoman Shirley Chisholm. The U.S. Supreme Court denies a new sentencing hearing for Mumia Abu-Jamal. Controversy stirs in Harlem and Brooklyn when two chicken restaurants name their establishments "Obama Friend Chicken." Reaction is mixed among neighborhood residents. Somali pirates hijack an American freighter, the Maersk Alabama, kidnapping the captain. A sniper operation kills three of the pirates after a three-day stand-off with the U.S. Navy and the pirates.
In an attempt to get a third term, Mayor Bloomberg runs on the Republican and Independent party lines as the election gets underway. City Councilman Charles Barron introduces a resolution to compensate the five young men who were falsely convicted and sentenced for the rape of the Central Park jogger 20 years after the incident. The NYPD officer accused of killing Fermin Arzu, Rafael Lora, is found guilty by a Bronx judge of second-degree manslaughter and negligent homicide. Playwright, director and activist Titus Walker dies at age 54. New York City historian and producer William "Bil" Haley-Freeman dies at age 62. The H1N1 virus (better known as the "swine flu") begins to spread in Mexico and the United States. One of the first outbreaks of swine flu in the nation occurs at a St. Francis Preparatory High School in Queens. Soon after, schools across the city close because of suspected outbreaks. Ruben Diaz, Jr. is elected Bronx borough president after getting 87 percent of the votes from his Republican opponent.