Farrakhan: 'From Africa to America, Harlem's Millions March will address it all'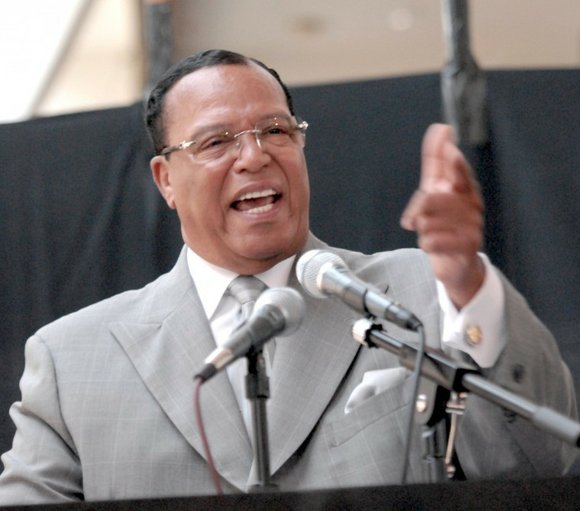 Farrakhan qualified his predictions, saying that, "If you study the Bible and the Qur'an, all of these things are written. It is prophecy. May God help us. Unfortunately, we have reached a time of trouble like there never was since there was a nation and a time."
Back to Saturday: a united front of far-reaching grassroots organizations has come together. The Millions March in Harlem Coalition comprises many leading national and international organizations that have fought for African peoples' human right to self-determination for decades.
"Not only I, but every speaker that will come and each performer that will perform will be feeding the public that which inspires us to do better and rise higher in our pursuit of freedom, justice and equality," Farrakhan assured the Amsterdam News.
As for the young people who might be thinking about wiling their time away doing other things on Saturday, the Chicago-based minister insisted, "Our young people are in turmoil because we as the elders are enamored by the wealth of the modern pharaoh. Unfortunately, we have neglected to plan effectively for our future in the time of pharoah. God allowed the elders to die in the wilderness because of their cowardice and love of pharaoh, and he took their children and it was they who inhabited the promised land. We as elders should be directed by them."
It won't be a talk shop but a rallying of the spirit and sense of purpose. not unlike that felt in the aftermath of Farrakhan's 1995 Million Man March. "Our people will be energized to want to unite with each other, respect each other, love each other more. With our unity, there will be nothing that we will not be able to accomplish."
Harlem will be the spot on Saturday.
"In the Bible, it says, 'My people are destroyed for the lack of knowledge,'" said Farrakhan. "So on Saturday-God willing-much knowledge will be imparted. For those who attend-and it is free of charge-to sacrifice a few hours to become more knowledgeable may help us to discharge our duties to self and family in a better way.
"God willing, I will be able to visit with Brother Gil Noble [the 'Like It Is' host is currently in critical condition after suffering a major stroke]. He is a great soldier and a great helper. To lose him would be a great loss."
For more information, contact Millions March in Harlem at (718) 398-1766 or www.millionsmarchharlem.com.