Around and about NYC: Seun Kuti, Oumou Sangare & Somi turn up the summer heat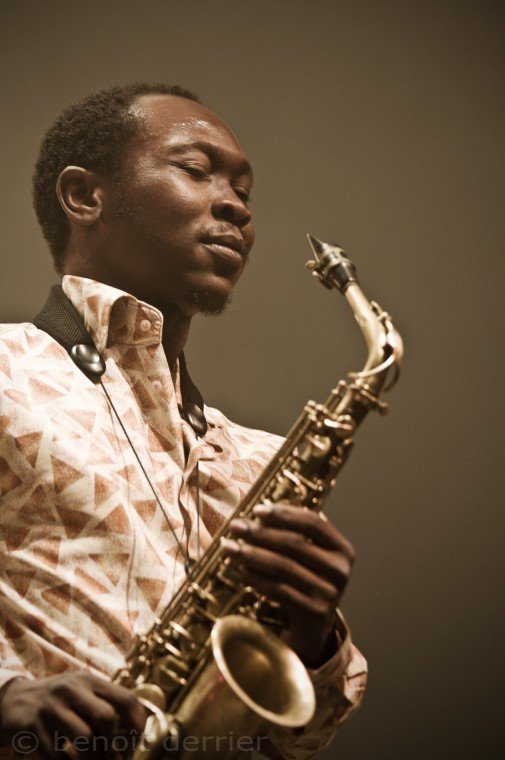 Seun Kuti and Egypt 80
It was on. 106 degrees of heat! That's what the temperature hit last week in New York City when the Afrobeat prince Seun Anikulapo Kuti and his band, the legendary Egypt 80, took over Brooklyn as the highly anticipated headliner of BRIC Arts | Media | Bklyn's Celebrate Brooklyn! presentation on July 22 at the Prospect Park Bandshell.
Joining Kuti and the acclaimed Egypt 80 were the Afrobeat pioneers Faaja Agba-all coming together to celebrate Nigeria's fiftieth anniversary of independence!
And what a show!
According to our "Africa Sings!" fans, Kuti was the spirit incarnate of his new album, "From Africa With Fury: Rise" (Knitting Factory Records 2011). They said that, as the Afrobeat prince, he did his father, Fela Anikulapo Kuti, proud. Some say they saw the legendary Afrobeat king beaming down from the soul of the heavens cheering on his artist/performer/songwriter/bandleader son as he led Fela's celebrated band, Egypt 80.
Others said the evening was a resounding testimony of multigenerational proportions. Many raved about Kuti's up-in-your-face, no-holding-back delivery of songs. Yes! We get it! The Afrobeat prince was burning, man.
Rooted in the Afrobeat king's red hot rhythms, Kuti's fiery fusion of innovative contemporary sounds affixed his distinct signature to today. This was his beat, and he jammed. This was Kuti's time and, as the son of the sun, he shone. Brilliantly.
Now you know why it was so damn hot last week.
Oumou Sangare
And now this week, here comes the inimitable chanteuse Oumou Sangare! Yes, New York City, the Malian queen of songs will headline Celebrate Brooklyn! at the Prospect Park Bandshell, 9th Street and Prospect Park West, on Fri., July 29.
The free concert with a suggested $3 contribution at the gate opens at 6:30 p.m. and will begin at 7:30 p.m. with a set by Arabic multi-instrumentalist music master Bassam Saba from Lebanon.
The internationally acclaimed Sangare, renowned as a vocalist and songwriter, is the most widely recognized artist of Wassoulou, an innovative popular West African music genre. Steeped in traditional Malian hunting rituals, this fusion of praise, devotion and harvest songs with pentatonic melodies is absolutely entrancing as Sangare magically mixes traditional instrumentation and rhythms with a contemporary, funk-driven sound.
Themes focusing on issues relating to and directly affecting women are directly explored and articulated by the beloved Sangare, whose outspoken words and music are truly liberating.
Sangare's outstanding repertoire will include material from her critically-acclaimed Grammy-nominaed album, "Sey" (World Circuit/Nonesuch Record 2009).
Somi
Somi drops new album, "Live at the Jazz Standard," with record release show Aug. 9 at Le Poisson Rouge
Are you ready, New York? The Ugandan rising star Somi will celebrate the release of her first live album, "Live at the Jazz Standard" (Palmetto Records 2011), with a very special show at New York's City's Le Poisson Rouge, 158 Bleeker St. on Tuesday, Aug. 9 following the Aug. 2 release of the album.
Accompanying Somi, who musically has been compared to Miriam Makeba, Sarah Vaughn and Nina Simone, will be an intimate jazz chamber ensemble comprised of Michael Olatuja (bass), Liberty Ellman (guitar), Jeff Haynes (percussion), Dave Eggar (cello/piano) and Jaleel Shaw (saxophone), who will "explore new arrangements of her original music."