Carnival SpecialWIADCA: "Bridging Culture" in Brooklyn
Misani | 8/24/2011, 4 p.m.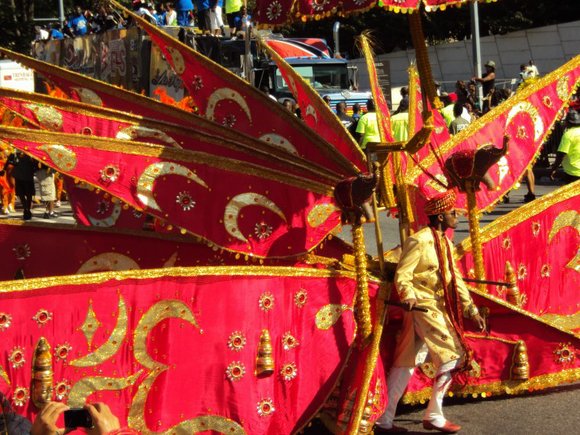 WIADCA Awards were presented by the organization's president Yolanda Lezama Clark to five scholarship winners to attend a CUNY school. The acclaimed record producer Rawlston "Charlie" Charles also received an award for his contribution to Caribbean music. Caribbean Airlines also flew in with gifts--in this case, a round-trip ticket to Trinidad & Tobago, which was presented by the North America executive, Nazie Mohammed. Also on hand waving to the crowd was the beautiful Miss Haiti from Brooklyn, NY.
And then it was the hot, hot, hot calypso show, with the dynamic headliner, David Rudder. Hosted by the fantastic, bigger-than-life MC Wassey, the bill also included the pioneer Black Stallin, Ricky Jai and Ajala, all brilliant entertainers who wowed the crowd. Needless to say, when Rudder took to the stage, the audience went crazy. And when he sang his international favorite "Hammer," a powerful all-time anthem, the capacity-packed space was on its feet, singing along to their much beloved David Rudder, beautifully, yet sadly bringing a climactic close to an unparalleled "Dimanche Gras" night that had turned into morning.
A few winks later it was Monday. Hundreds of mud-smeared, tattered, disheveled-looking joovay revelers took to the streets before dawn. Accompanied by steel pan music, they woke up Carnival Monday... The long awaited day. That's when the surging ocean of colors--azure blue, lime green, orangey/mango red, sunshine yellow, Caribbean indigo--continued from early in the afternoon through 5:45 p.m. as wave after wave of Mas players tinted Eastern Parkway, dancing their way across oceans of ancestors who defied death to keep their culture to play Mas.
To contact the "Caribbean Lingo!" series, which pays tribute to Caribbean Diaspora artists and artforms of the highest caliber, please email our team at Caribbeanlingo@gmail.com.